News
Tucker Carlson Confronts Ted Cruz After He Called the Jan. 6 Riot a 'Terrorist Attack'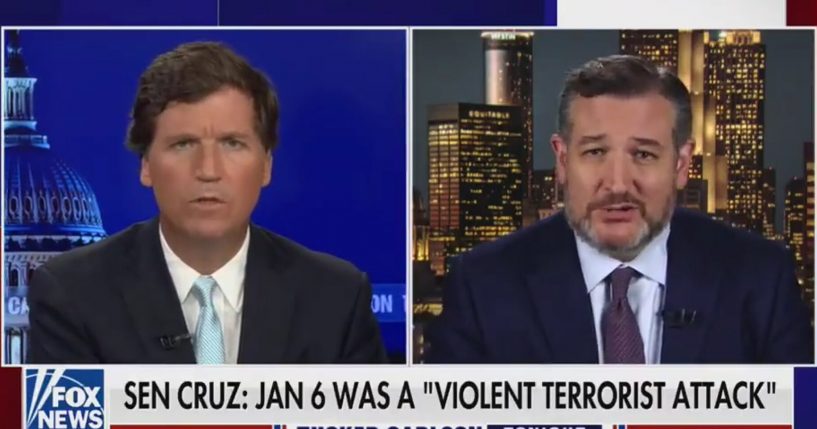 Fox News host Tucker Carlson accused Sen. Ted Cruz (R-Texas) of lying about the January 6 Capitol riot.
During a Wednesday Senate hearing, Cruz said, "We are approaching a solemn anniversary this week. And it is an anniversary of a violent terrorist attack on the Capitol where we saw the men and women of law enforcement demonstrate incredible courage, incredible bravery, risk their lives to defend the men and women who serve in this Capitol."
Carlson brought up the comments during his show Thursday night.
Advertisement - story continues below
"You called this a terror attack when by no definition was it a terror attack. That's a lie. You told that lie on purpose, and I'm wondering why you did," Carlson said.
Cruz responded, "Well, Tucker, thank you for having me on. When you aired your episode last night, I sent you a text shortly thereafter and said, listen, I would like to go on because the way I phrased things yesterday, it was sloppy, and it was frankly dumb."
Carlson interrupted, "I don't buy that. I've known you a long time since before you went to Senate. You were a Supreme Court contender. You take words as seriously as any man who has ever served in the Senate."
He continued, "And every word, you repeated that phrase, I do not believe you that used that accidentally. I just don't."
Advertisement - story continues below
Check out the video below:
Ted Cruz grovels apologetically to Tucker Carlson for his "sloppy" comments about January 6 being a "terrorist attack" pic.twitter.com/ZBPgLLBWIL

— Aaron Rupar (@atrupar) January 7, 2022
Cruz explained he was referring to the small number of people who "engaged in violent attacks against police officers."
The Fox News host interrupted Cruz again.
"Hold on, what you just said doesn't make sense. So, If somebody assaults a cop, he should be charged and go to jail, I couldn't agree more. We have said that for years. But that person is still not a terrorist," Carlson said.
Advertisement - story continues below
He added, "How many people have been charged with terrorism on January 6? Like, why did you use that word? You're playing into the other side's characterization that…allows them to define an entire population as foreign combatants, and you know that, so why did you do it?"
The senator reiterated it was a mistake to call it a terrorist attack.
Still, Carlson told Cruz, "I guess I just don't believe you."
He continued, "And I mean that with respect, because I have such respect for your acuity and your precision."
Advertisement - story continues below
Additionally, Cruz explained his choice of words in a Twitter thread.
I was NOT calling the thousands of peaceful protestors on Jan 6 terrorists. I would never do so; I have repeatedly, explicitly said the OPPOSITE—denouncing the Democrats' shameful efforts to do so & to try to paint every Trump voter in America as "terrorists" & "insurrectionists"

— Ted Cruz (@tedcruz) January 7, 2022
The snippet from yesterday didn't include my passionate & repeated defense of the patriots and peaceful protestors supporting President Trump. I'm sorry that that 20-second clip led so many to misunderstand what I was saying.

— Ted Cruz (@tedcruz) January 7, 2022
Cruz received criticism for the comments he made on Carlson's show from several, including Rep. Adam Kinzinger (R-Ill.).
Advertisement - story continues below
Wow @tedcruz that is one of the most pathetic things i have ever seen. https://t.co/nvxMcMEU8w

— Adam Kinzinger (@AdamKinzinger) January 7, 2022
"That is one of the most pathetic things i have ever seen," Kinzinger tweeted.
Truth and Accuracy
We are committed to truth and accuracy in all of our journalism. Read our editorial standards.
Comment Down Below
Conversation