News
Tucker Carlson Argues COVID-19 'Does Feminize People'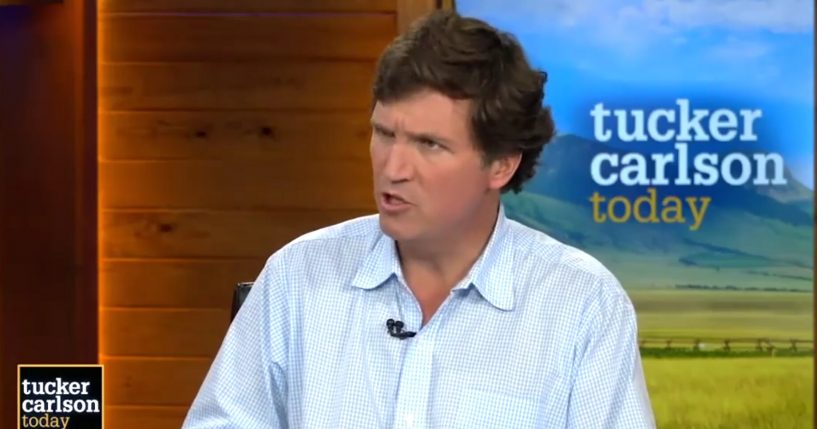 Fox News host Tucker Carlson says COVID-19 "does tend to take away the life force in some people."
Carlson mentioned U.K. Prime Minister Boris Johnson's health during an interview with British politician Nigel Farage.
"So somebody who knows him told me, and I'd be interested in getting your take on this, that getting COVID emasculated him, it changed him, it feminized him, it weakened him as a man. Do you think that's…" Carlson said.
Advertisement - story continues below
Farage interrupted, "Well, I think he was very seriously ill."
Carlson responded, "Oh, for sure he was."
Farage went on to explain, "One of the things we have learned from Covid is people who are 50, 60, 70, 80 pounds overweight tend to have fared very badly."
The Fox News host argued, "But the virus itself, this is true, does tend to take away the life force in some people I notice. I mean, it does feminize people. No one ever says that, but it's true."
Advertisement - story continues below
Check out the video below:
Tucker Carlson: Getting COVID "does feminize people. No one ever says that but it's true" https://t.co/XrtVSnswCp pic.twitter.com/BoSARprISM

— nikki mccann ramírez (@NikkiMcR) December 8, 2021
Do you think the virus "feminizes people"?
The British politician replied, explaining, "Look, I think the virus did affect him. But let's be honest about it, it's the new wife, isn't it? I mean, it's Carrie Johnson, or as she's now called Carrie Antoinette, which the historians like. This is a very powerful, very strong woman."
Carlson joked, asking, "What wife is this? Do we know? Or do we even keep count?"
On Wednesday, Johnson called for tighter restrictions amid the spread of the omicron variant.
Advertisement - story continues below
"It has become increasingly clear that omicron is growing much faster than the previous delta variant and is spreading rapidly all around the world," he said.
Johnson added, "Most worryingly, there is evidence that the doubling time of omicron could currently be between two and three days."
According to Johnson, 568 cases of the variant have been confirmed in the U.K. thus far. He suggested, "The true number is certain to be much higher."
Truth and Accuracy
We are committed to truth and accuracy in all of our journalism. Read our editorial standards.
Comment Down Below
Conversation