News
Tulsi Gabbard Accuses Biden Admin of Doing the 'Kind of Thing You See in Dictatorship'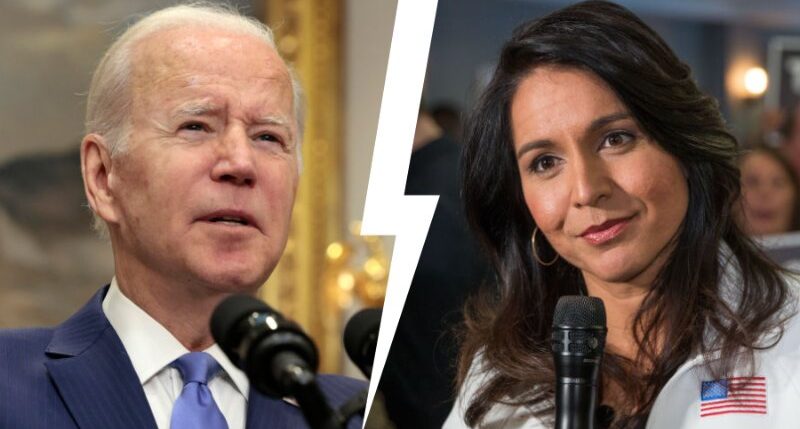 Former Rep. Tulsi Gabbard (D-Hawaii) is laying into the Biden administration, saying if there is a "silver lining" in the creation of the "Ministry of Truth" it is "they're revealing exactly who they are."
"This is the kind of thing you see in dictatorship, this Ministry of Truth, this department of propaganda that the Biden administration has just stood up," Gabbard said on Fox News.
She then shared "the reason why you see this in dictatorships."
Advertisement - story continues below
"They're afraid of us, they're afraid of the people, they're afraid that we might actually think for ourselves," the former lawmaker declared.
Sharing the "two things" she believes Biden's Ministry of Truth will do, Gabbard said, "Number one, it'll use taxpayer dollars to work through the mainstream media and flood the airwaves with whatever their propaganda narrative is that they're pushing at any given time and try to drown out anyone with alternative views."
"Number two, they will silence dissenting voices through intimidation," she continued.
Homeland Security Secretary Alejandro Mayorkas announced on Wednesday the creation of the "Disinformation Governance Board" to combat misinformation, and conservatives have expressed disagreement with it. The White House has defended the board.
Advertisement - story continues below
Watch the video below:
Every dictatorship has a propaganda arm—a "Ministry of Truth." The Biden Administration has now formally joined the ranks of such dictatorships with their creation of the so-called "Disinformation Governance Board." pic.twitter.com/iMnrqksaJJ

— Tulsi Gabbard 🌺 (@TulsiGabbard) April 29, 2022
Gabbard has defied Democrats before, including when she weighed in on Florida's Parental Rights in Education bill —dubbed the  "Don't Say Gay" bill by critics.
"We should all support the Parental Rights in Education bill," she said in a previous video posted to Twitter, noting she does not believe the bill goes far enough. The former lawmaker added, "Third grade? What about 12th grade? Or not at all?"
She also said, "Now government has no place in our personal lives. Government has no place in our bedrooms. Parents are the ones responsible for raising their kids and instilling in them a moral foundation, not the government."
Advertisement - story continues below
Additionally, Gabbard slammed President Joe Biden over Russia's invasion of Ukraine, and she labeled Vice President Kamala Harris a "disaster."
She also weighed in on Biden's previous remarks about Border Patrol agents, and said on Fox News, "That's the increasing feeling that a lot of us have, is that we are losing our democracy and moving closer and closer to what essentially is an autocracy."
Truth and Accuracy
We are committed to truth and accuracy in all of our journalism. Read our editorial standards.
Comment Down Below
Conversation