News
Ukraine President Appears to Swipe at Biden: 'Defending Our State Alone'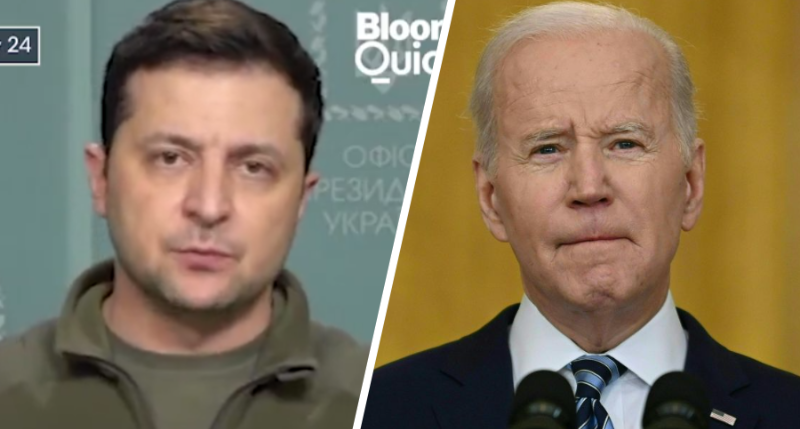 Ukraine President Volodymyr Zelenskyy appeared to take a swing at U.S. President Joe Biden and others for "watching from afar."
"This morning we are defending our state alone. Like yesterday, the world's most powerful forces are watching from afar," Zelenskyy said in his remarks on Friday morning.
He continued, "Did yesterday's sanctions convince Russia? We hear in our sky and see on our earth that this was not enough."
Advertisement - story continues below
The Ukraine president noted that Russia will "have to talk to us sooner or later." He also expressed support for Russian citizens who are protesting.
"Fight for us, fight against war," he said.
When opening his remarks, Zelenskyy said it was the "second morning of the all-out war."
Watch his remarks below:
Advertisement - story continues below
"The world's most powerful forces are watching from afar."

🇺🇦 Zelenskiy said sanctions imposed by western allies are not enough to contain Russian aggression https://t.co/DmwGPLLxxB pic.twitter.com/z1ZfaB6ezl

— Bloomberg Quicktake (@Quicktake) February 25, 2022
Biden issued a statement on Tuesday regarding his phone call with Zelenskyy. The U.S. president condemned the "unprovoked and unjustified attack by Russian military forces."
Should the U.S. support Ukraine?
He also briefed the Ukraine president "on the steps we are taking to rally international condemnation, including tonight at the United Nations Security Council."
"He asked me to call on the leaders of the world to speak out clearly against President Putin's flagrant aggression, and to stand with the people of Ukraine," Biden continued. "Tomorrow, I will be meeting with the Leaders of the G7, and the United States and our Allies and partners will be imposing severe sanctions on Russia. We will continue to provide support and assistance to Ukraine and the Ukrainian people."
Biden expected to meet with NATO Heads of State and Government on Friday morning to discuss the Russia-Ukraine situation.
Advertisement - story continues below
On Thursday, Biden announced new sanctions on Russia, which include "export blocks on technology," as well as "applied sanctions on Russian banks and 'corrupt billionaires' and their families who are close to the Kremlin," CNN reported.
"Putin is the aggressor. Putin chose this war. And now he and his country will bear the consequences," Biden said.
Friday is the second day of Russia's invasion of Ukraine, and explosions were heard in Ukraine's capital, Kyiv, per CNN.
Truth and Accuracy
We are committed to truth and accuracy in all of our journalism. Read our editorial standards.
Comment Down Below
Conversation