News
Watch: Video Appears to Show Moment Police Arrest Suspect Accused of Plowing Car Into Christmas Parade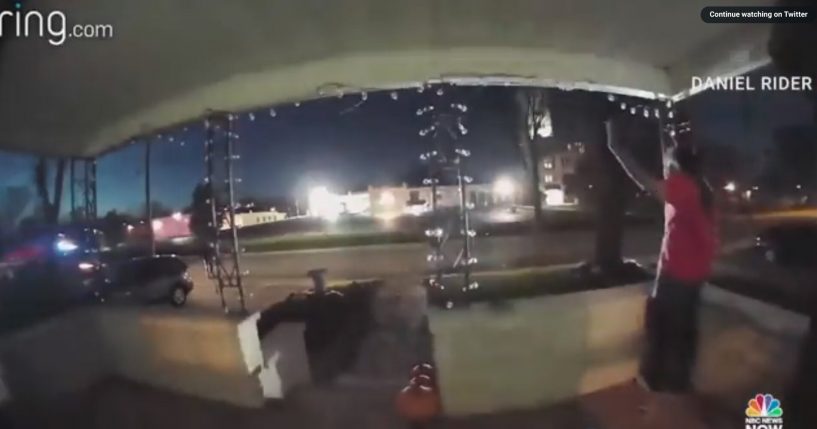 A doorbell camera appears to have captured the moment police arrested the individual suspected of plowing his car into a Christmas parade in Waukesha, Wisconsin.
Darrell Brooks is facing five counts of first-degree intentional homicide as officials alleged he drove his car into a parade in Waukesha on Sunday, killing at least five people and injuring dozens.
A doorbell camera video obtained by NBC News shows Brooks on Sunday outside a house, asking for help and saying he was waiting for an Uber.
Advertisement - story continues below
The video is time-stamped just after 5 p.m., roughly 20 minutes after Brooks allegedly drove his car into the parade.
It shows him knocking on the door, and he can be heard saying, "I called an Uber, and I'm supposed to be waiting for it over here, but I don't know when it's coming. Can you call it for me, please? I'm homeless."
Several minutes later, police officers arrive and tell Brooks to put his hands up.
Watch the video below:
Advertisement - story continues below
Arrest of #Waukesha Christmas Parade attack suspect Darrell Brooks caught on Ring cam pic.twitter.com/E3DJzTZukl

— Nobody (@TheNoboddy) November 23, 2021
According to NBC News, "It isn't clear whether the house, roughly a half-mile from the Waukesha Christmas parade route that Brooks is accused of plowing into, is where police placed him under arrest."
Daniel Rider, the resident of the house, told the outlet he was watching football at the time and was not aware of what happened at the parade.
He told the outlet he "invited Brooks inside and gave him a jacket, made him a sandwich and let him use his phone."
Rider's neighbor reportedly called the police.
Advertisement - story continues below
"All of a sudden, I look outside my street, and I see a few cop cars drive by, and I'm getting extra nervous," Rider told NBC, adding, "Then the next thing you know, you see the cops with lights on him saying, 'hands in the air, hands in the air.'"
Brooks has a lengthy criminal record and reportedly ran over a woman with his car on Nov. 2. He was charged with felony second-degree recklessly endangering safety, felony bail jumping, and three misdemeanors.
On Nov. 11, he posted the $1,000 bail in the case and was released from custody.
And officials say he fled the scene of a domestic incident before allegedly driving into the parade on Nov. 21.
Advertisement - story continues below
The Milwaukee County district attorney said in a statement on Monday that the bail recommendation for the Nov. 2 case was "inappropriately low" and announced his office is launching an investigation into the matter.
Truth and Accuracy
We are committed to truth and accuracy in all of our journalism. Read our editorial standards.
Comment Down Below
Conversation