News
'Violence Against Law Enforcement' Is 'One of the Biggest Phenomena' in US, Wray Says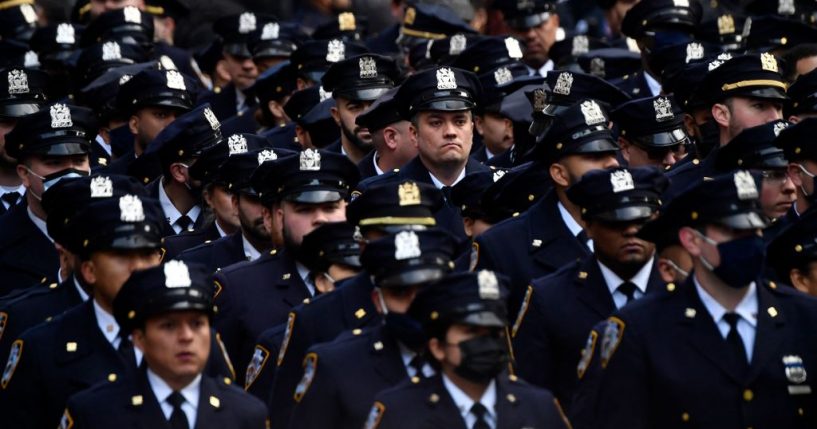 FBI Director Christopher Wray is sharing that in 2021, law enforcement officers were "being killed at a rate of almost one every five days," and how violence against officers "doesn't get enough attention."
"60 Minutes" correspondent Scott Pelley noted the 59% increase in murders of police officers in 2021.
"Violence against law enforcement in this country is one of the biggest phenomena that I think doesn't get enough attention," Wray said during the interview, which aired Sunday evening.
Advertisement - story continues below
Talking about why this is happening, Wray explained, "Some of it is tied to the violent crime problem as a whole. But one of the phenomena that we saw in the last year is that an alarming percentage of the 73 law enforcement officers killed in the line of duty last year were killed through things like being ambushed or shot while out on patrol. … Wearing the badge shouldn't make you a target."
Watch the interview below:
Violent crime is up in the U.S., and in 2021, there was a 59% increase in murders of police officers. FBI Director Wray says "an alarming percentage" of the officers killed were killed in ambushes. "Wearing the badge shouldn't make you a target." https://t.co/G4EN7xhOpQ pic.twitter.com/akb4AQwbvP

— 60 Minutes (@60Minutes) April 24, 2022
The year 2020 saw a 29% jump in murder in the U.S., which amounts to roughly 5,000 additional people killed compared to the year prior, as Pelley noted.
Advertisement - story continues below
Wray explained that the coronavirus pandemic "certainly didn't help." Additionally, he said juveniles committing violent crimes, interstate gun trafficking, and "an alarming frequency of some of the worst of the worst getting back out on the streets" also contributed.
Between 2019 and 2020, U.S. murders increased 30%, which is the "highest increase in rates of homicide in modern history," CNN reports, citing U.S. Centers for Disease Control and Prevention data. The FBI's data also showed an increase of nearly 30%.
Robert Anderson, chief of the mortality statistics branch at NCHS, previously told CNN, "It is the largest increase in 100 years," adding, "The only larger increase since we've been recording these data occurred between 1904 and 1905, and that increase was most likely — at least partly — the result of better reporting."
He continued, "We had states being added to what we refer to as the death registration areas, so we were counting deaths in more areas over time. We didn't have all states reporting until 1933."
The New England Journal of Medicine published on April 20 updated data by the CDC that was recently released showing "45,222 firearm-related deaths in the United States in 2020 — a new peak." The firearm-related deaths include suicide, homicide, unintentional, and undetermined.
Truth and Accuracy
We are committed to truth and accuracy in all of our journalism. Read our editorial standards.
Comment Down Below
Conversation