News
Watch: Virginia's Dem Candidate for Governor Walks Off Interview, Criticizes Reporter Over Questions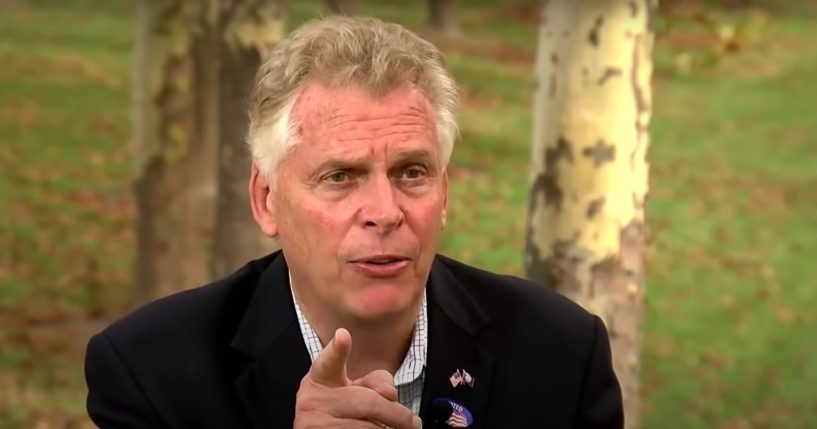 Virginia Democratic gubernatorial nominee Terry McAuliffe walked off an interview, saying the reporter should have asked "better questions."
WJLA 7News reporter Nick Minock sat down with McAuliffe as well as his Republican opponent, Glenn Youngkin, in separate interviews.
Minock pressed McAuliffe on several topics including education, his record on crime and vaccine mandates.
Advertisement - story continues below
He opened the interview by asking the Democratic candidate about previous remarks he said surrounding parents telling schools what they should teach.
Minock asked, "So are you saying parents shouldn't have a voice in their kids' education?"
McAuliffe replied, "Sure, parents should have a voice. And parents do have a voice."
He went on to mention his record, putting "a billion dollars in education." Additionally, McAuliff vowed to raise teacher pay above the national average.
Advertisement - story continues below
McAuliffe accused his opponent of having a "Donald Trump, Betsy DeVos plan" for education.
When asked if he misspoke during the debate, McAuliffe replied, "No! I was talking about what we need to do, bringing people together."
Should the reporter have asked "better questions"?
He added, "We have the state boards, we have the board of education and we have the local school boards who are all involved in this process. But the issue is how do we deliver a world class education." 
Watch the interview below:
Advertisement - story continues below
Minock asked McAuliffe if he would issue mandates for schools, "Telling them what to teach and how to teach it."
"You rely on the state board working with the school boards to determine what is the best curriculum to give your children a world class education" McAuliffe explained.
Taking another swipe at Youngkin, McAuliffe said his vow to ban critical race theory is "so offensive."
He continued, "It is a racist dog whistle."
Advertisement - story continues below
Turning to his record on crime, McAuliff claimed when he was governor he "had the lowest crime rate of any major state" in the country.
The reporter moved on to ask McAuliff about whether he supports vaccine mandates for state employees and children who are attending school.
"I'm for everybody getting vaccinated," McAuliff said.
Later, an aide for McAuliff interrupted, telling Minock, "We're already over."
Advertisement - story continues below
Standing up from his seat, McAuliff added, "All right, we are over. That's it. That's it. Hey, I gave you extra time. C'mon man." 
He continued, "You should have asked better questions early on. You should have asked questions your viewers care about."
WJLA anchor Jonathan Elias later offered an explanation as to why McAuliff's interview was shorter than Youngkin's.
"So if you watch those entire interviews on our website, we do want to point out that the Terry McAuliffe interview is shorter than our interview with Glenn Youngkin. That was not by our doing," Elias said.
Advertisement - story continues below
WATCH: Terry McAuliffe cut off an interview and berated a reporter for asking tough questions. #VAgov pic.twitter.com/wAaleFdF9f

— Team Youngkin (@TeamYoungkin) October 19, 2021
He went on, "Nick offered both candidates 20 minutes exactly to be fair for the interviews. McAuliffe abruptly ended 7News' interview after just 10 minutes and told Nick that he should have asked better questions and that Nick should have asked questions 7News viewers care about. That's what he said." 
UPDATE [10/20/21, 2:44 p.m. EST]:
McAuliffe's press secretary Renzo Olivari tweeted on Wednesday morning that "7NewsDC mislead viewers" and added a screenshot of text messages. The texts seem to show Minock agreeing to a 10-minute interview. The interview appears to have been 11 minutes long.
Truth and Accuracy
We are committed to truth and accuracy in all of our journalism. Read our editorial standards.
Conversation