News
Virginia Officials Announce Agreement To Relocate Confederate Monuments to Black History Museum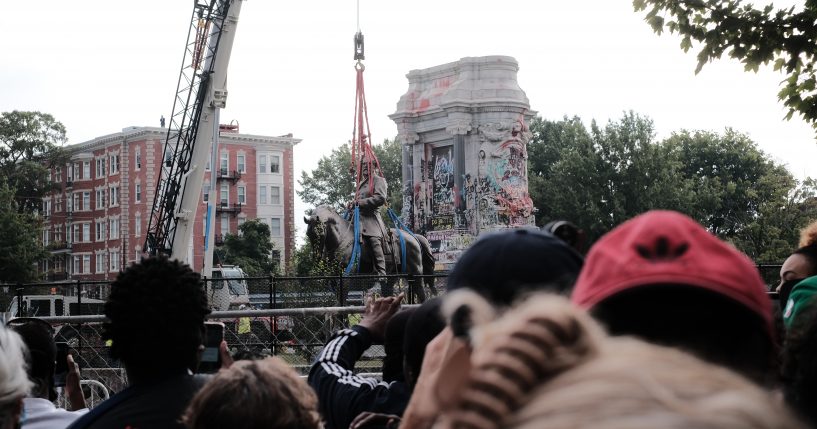 Removed Confederate monuments in Virginia are expected to be relocated to the Black History Museum and Cultural Center of Virginia, according to officials.
The Associated Press reported Gov. Ralph Northam and Richmond Mayor Levar Stoney announced the Black History Museum would discuss plans for the monuments with The Valentine museum of Richmond and the community.
A statue of Gen. Robert E. Lee would be included in the transfer along with the pedestal.
Advertisement - story continues below
The outlet pointed out the City Council would need to approve the deal. Stoney said he would approach the council for approval next month.
"Entrusting the future of these monuments and pedestals to two of our most respected institutions is the right thing to do," Stoney said in a statement.
The Robert E. Lee statue in Richmond, Virginia, was taken down in September, as IJR previously reported.
Northam said during the removal of the statue, "This has a long time coming, part of the healing process for Virginia to move forward, to embrace diversity, to be a welcoming state, to be inclusive."
Advertisement - story continues below
He continued, "A lot of effort has gone into this. I want to thank the city of Richmond, the people of Richmond, and people all across the Commonwealth for doing the right thing. After 402 years of this history that we should not be proud of, this is a step in the right direction. It's a big day for Virginia and I thank all of you for being part of this."
After the Supreme Court of Virginia ruled the state can remove the statue, Northam called the ruling "a tremendous win for the people of Virginia."
He added, "Our public memorials are symbols of who we are and what we value. When we honor leaders who fought to preserve a system that enslaved human beings, we are honoring a lost cause that has burdened Virginia for too many years."
Truth and Accuracy
We are committed to truth and accuracy in all of our journalism. Read our editorial standards.
Comment Down Below
Conversation