News
Secretary of State Dodges When Asked if Biden Knows 'What's Going On'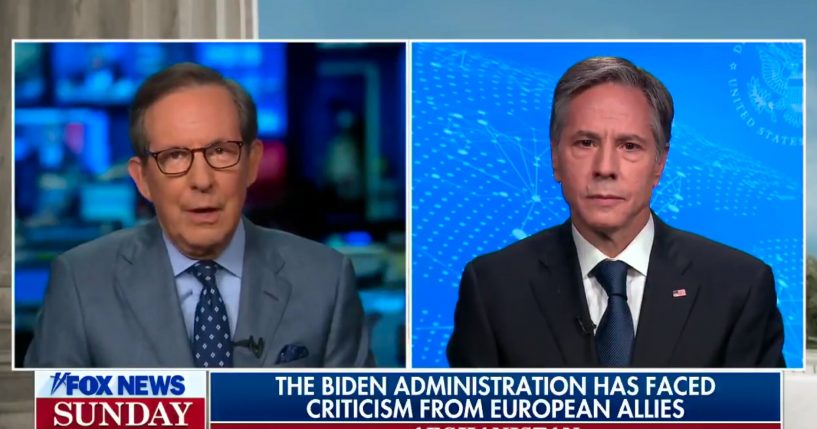 Secretary of State Antony Blinken is being pressed on President Joe Biden's statements about the withdrawal from Afghanistan and whether he knows "what's going on."
Fox News' Chris Wallace noted that Biden said he had not seen international allies questioning the credibility of the U.S. then shared examples of officials of allied governments criticizing the withdrawal to support his claim that the president's comment was "flat wrong."
He asked, "Mr. Secretary, does the president not know what's going?"
Advertisement - story continues below
"This is an incredibly emotional time for many of us and including allies and partners who've been shoulder-to-shoulder with us in Afghanistan for 20 years, at high costs to themselves as well as to us," Blinken responded.
He continued, "From the get-go, I've spent more time with our NATO partners in Brussels virtually from before the president made his decision to when he made his decision to every time since. We've been working very, very closely together."
Wallace pushed back, "I'm not questioning whether or not the allies have a right to complain. I'm not questioning whether or not al-Qaeda has a presence. The president said al-Qaeda's gone. It's not gone. The president said he's not heard any criticism from the allies. There's been a lot of criticism from the allies. Words matter, and the words of the president matter most."
Watch the video below:
Advertisement - story continues below
MUST WATCH: Chris presses Secretary of State, Antony Blinken, on the administration's claims about the situation in Afghanistan. #FoxNewsSunday pic.twitter.com/SafZ7IuDoD

— FoxNewsSunday (@FoxNewsSunday) August 22, 2021
During remarks at the White House on Friday, Biden was asked, "What is your message to America's partners around the world who have criticized not the withdrawal but the conduct of that withdrawal and made them question America's credibility around the word?"
Has the U.S. withdrawal damaged U.S. credibility?
"I have seen no question of our credibility from our allies around the world," Biden responded. "The fact of the matter is, I have not seen that. Matter of fact, the exact opposite I've gotten, the exact opposite because we're acting with dispatch, committing to what we said we would do."
However, The Washington Post reports that the decision to withdraw has "triggered a globe-spanning rethink of America's role in the world, as European allies discuss their need to play a bigger part in security matters and Russia and China consider how to promote their interests in a Taliban-led Afghanistan."
"In the European Union, which held an emergency session of foreign ministers on Afghanistan on Tuesday, officials offered rare criticism of Washington for risking a flood of refugees to their borders and the return of a platform for terrorism in Central Asia," the Post added.
Truth and Accuracy
We are committed to truth and accuracy in all of our journalism. Read our editorial standards.
Comment Down Below
Conversation