Warren Buffett Say He Is 'Not a Card-Carrying Democrat,' Would Vote for Bloomberg Over Sanders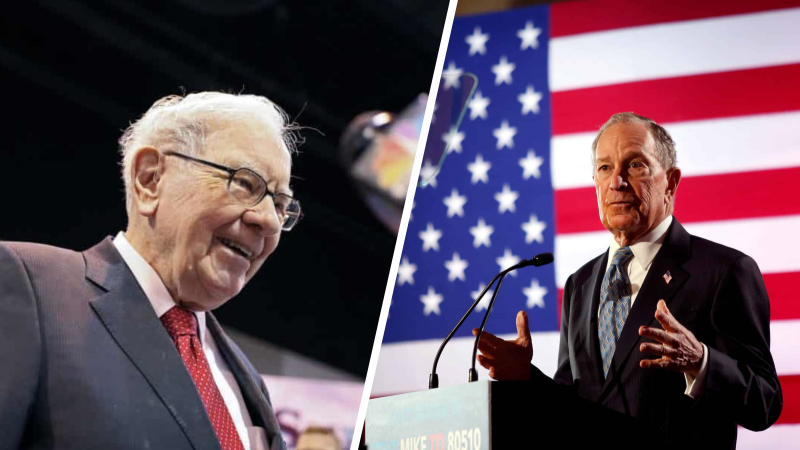 Billionaire investor Warren Buffett says he "would certainly vote for" former New York City Mayor Michael Bloomberg. However, there are reasons why he wouldn't support his campaign.
On Monday, Buffett appeared on CNBC's "Squawk Box" where he discussed business and the Democratic presidential race. When asked about Bloomberg, Buffett admitted that he believes Bloomberg is a viable candidate for the presidency. However, he doesn't think it would be beneficial for another billionaire to support his campaign.
"I don't think another billionaire supporting him would be the best thing to announce," he quipped.
I would vote for Mike Bloomberg over Sanders if given the choice, says Warren Buffett pic.twitter.com/fScTuWp3SD

— Squawk Box (@SquawkCNBC) February 24, 2020
If Bloomberg wins the election, he has vowed to sell Bloomberg LP. During an interview with CNN, Bloomberg's adviser Timothy O'Brien explained why.
"There will be no confusion about any of his financial holdings blurring the line between public service and personal profiteering," O'Brien told the publication last week.
Buffett was asked if he had an interest in purchasing the company. He said he did not.
I would not consider buying Bloomberg LP if Mike Bloomberg becomes president, says Warren Buffett pic.twitter.com/FIOSQ6xsAi

— Squawk Box (@SquawkCNBC) February 24, 2020
Buffett isn't one-hundred percent sure about Bloomberg for president, though, admitting that he's like many other Americans when it comes to the final say. He would rather see who gets to the general election before publicly expressing his thoughts.
"I think I'm going to wait and see who gets the nomination," Buffett told CNBC.
"I'm a Democrat, but not a card-carrying Democrat" says Warren Buffett on the 2020 election #AskWarren pic.twitter.com/ycsC5bWBk1

— Squawk Box (@SquawkCNBC) February 24, 2020
Buffett also revealed Sen. Bernie Sanders (I-Vt.) has quite a few proposed plans for the capitalist system that he agrees with. However, "if given the choice" out of Bloomberg and Sanders, the billionaire businessman would get his vote. 
"I don't think I want to get into handicapping the race, but I would say this in terms of Sanders: I actually agree with him in terms of certain things he would like to accomplish," he said.
"We ought to do better by the people who get left behind by our capitalist system," but "I don't think we should kill the capital system in the process," he said.
Buffett discussed his political stance explaining he is "a Democrat but I'm not a card-carrying Democrat." In the past, he has voted for Republican candidates, as well. However, this time around, he's suggested that he will be voting Democrat. 
Published in IJR