News
Watch: UC Berkeley Professor Calls Hawley's Line of Questioning 'Transphobic' During Hearing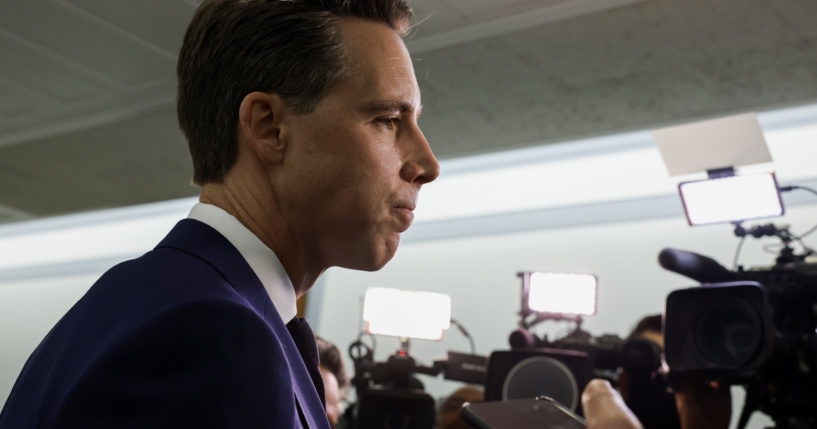 Sen. Josh Hawley (R-Mo.) went back and forth with UC Berkeley Professor Khiara Bridges during a hearing on abortion.
During the Tuesday hearing, Hawley noted Bridges has used the term "people with a capacity for pregnancy."
He asked, "Would that be women?"
Advertisement - story continues below
Bridges stated that transgender men and non-binary people are also capable of pregnancy.
Hawley responded, "So this isn't really a women's rights issue."
The professor jumped in, adding, "We can recognize that this impacts women while also recognizing that it also impacts other groups. Those things are not mutually exclusive, Senator Hawley."
When asked what she thinks the core of the issue was, Bridges replied, "I want to recognize that your line of questioning is transphobic."
Advertisement - story continues below
She continued, "And it opens up trans people to violence by not recognizing them."
The senator then asked, "Wow. You're saying that I'm opening up people to violence by asking whether or not women are the only folks who can have pregnancies?"
Do you think the line of questioning was transphobic?
Watch the exchange below:
The Democrats say what they really think: men can get pregnant and if you disagree, you are "transphobic" and responsible for violence pic.twitter.com/44CeIi5WvT

— Josh Hawley (@HawleyMO) July 12, 2022
Bridges went on to cite a statistic that shows one out of five transgender people have attempted suicide.
Advertisement - story continues below
She argued denying transgender people exist is "dangerous."
When asked if he believes men can get pregnant, Hawley responded, "No, I don't think men can get pregnant."
He was then accused by Bridges of denying that transgender people exist.
Hawley asked Bridges if this is how she runs her classroom.
Advertisement - story continues below
"We have a good time in my class. You should join. You might learn a lot," Bridges said.
"Wow. I would learn a lot. I've learned a lot from this exchange. Extraordinary," Hawley joked.
According to the university's website, Bridges "has written many articles concerning race, class, reproductive rights, and the intersection of the three."
Truth and Accuracy
We are committed to truth and accuracy in all of our journalism. Read our editorial standards.
Comment Down Below
Conversation