News
WH Spox Claims GOP Poses the 'Single Biggest Threat' to the Economy After April Inflation Report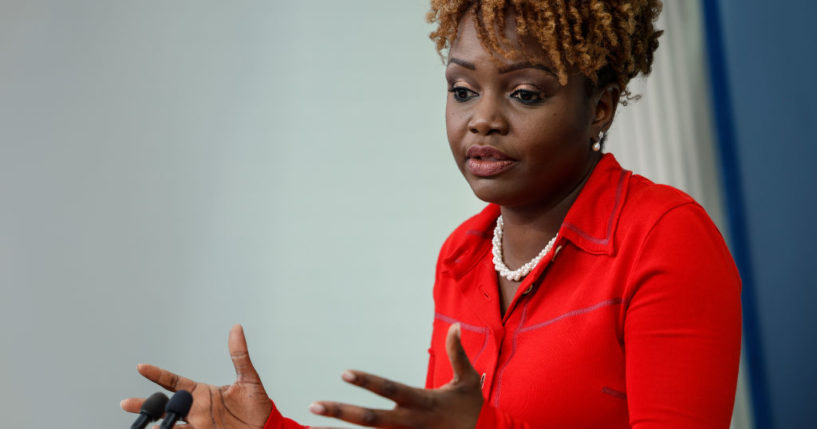 A White House spokesperson is warning about the "biggest threat" to the U.S. economy after the pace of price increases eased for the 10th consecutive month.
On Wednesday, data from the Labor Department showed inflation rose 4.9% in April compared to the previous year, which was lower than expected.
Meanwhile, prices rose .4% in April from the previous month, up from .1% in March.
Advertisement - story continues below
In a statement, White House press secretary Karine Jean-Pierre said, "With today's report, annual inflation has come down 45 percent since last summer."
"The annual inflation rate has now come down 10 months in a row at a time when our economy and job market are strong, with the unemployment rate at its lowest level in more than 50 years. Gas prices are down nearly $1.50 from their summer peak, and prices at the grocery store have actually come down the last two months, providing some welcome breathing room for families," she continued.
She noted there is "more work to do to lower costs for families," but insisted President Joe Biden's policies are "creating good jobs you can raise a family on in communities throughout the country."
Jean-Pierre then brought up the debate over the debt ceiling:
Advertisement - story continues below
"With all this progress, the single biggest threat to our economy would be if House Republicans fail to prevent default. That would cost millions of Americans their jobs, increase costs, increase the deficit, and crater retirement accounts."
"As the president said to Congressional leaders yesterday, we must take default off the table – and then have a separate conversation about the budget. He simply will not accept attempts to take the full faith and credit of the United States hostage in order to enact an extreme agenda that would raise costs for hard-working families," she added.
Jean-Pierre's statement comes amid an ongoing debate over the debt ceiling, the limit of how much the U.S. can borrow to pay its debt.
The New York Times explains if the U.S. does not raise the debt ceiling and "if the government exhausts its extraordinary measures and runs out of cash, it would be unable to issue new debt."
"That means it would not have enough money to pay its bills, including interest and other payments it owes to bondholders, military salaries and benefits to retirees," it added.
Advertisement - story continues below
Treasury Secretary Janet Yellen warned in May the U.S. could default as soon as June 1 if the debt limit is not raised.
Biden has insisted Congress pass a bill to raise the debt ceiling without any conditions.
However, Republicans have been pushing to cut spending and raise the debt limit.
The president met with congressional leaders on Tuesday and called their discussion "productive." However, House Speaker Kevin McCarthy (R-Calif.) said he "didn't see any new movement."
Advertisement - story continues below
The leaders are expected to meet to discuss the matter again on Friday.
Truth and Accuracy
We are committed to truth and accuracy in all of our journalism. Read our editorial standards.
Comment Down Below
Conversation