White House: Press Release Claiming Trump Ended the COVID-19 Pandemic Was 'Poorly Worded'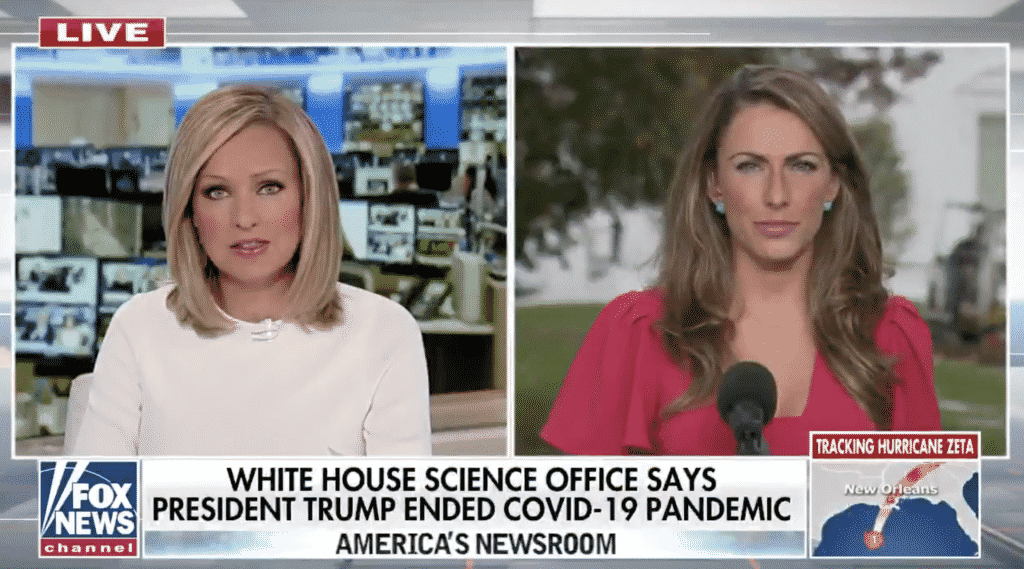 The White House is attempting to clarify a press release issued by the White House's Office of Science and Technology Policy (OSTP) claiming President Donald Trump has ended the COVID-19 pandemic.
During a Fox News interview, White House strategic communications director Alyssa Farah argued Trump does not believe the pandemic has come to an end.
"No, absolutely not. I think that was poorly worded. The intent was to say that it is our goal to end the virus. But, what I would say is this, because of the president's leadership we are rounding the corner on the virus," Farah said.
She claimed the Trump administration is "rushing therapeutics," they have Remdesivir on the market along with "monoclonal antibodies" and steroids, and there is "massive" testing and the "ability to isolate cases."
"We are in the best position to date to treat the virus than we have been at any previous time, but to your point, cases are still rising and we need the American public to remain vigilant. This is the top priority of the president, defeating this virus and rebuilding our economy," Farah said.
Watch her remarks below:
WATCH: @Alyssafarah outlines the administration's efforts to combat COVID-19. PLUS she provides an update on communications between the White House & the Pennsylvania Governor's office, after looters target businesses in the second night of unrest in Philadelphia #nine2noon pic.twitter.com/lezMIzVaSA

— America's Newsroom (@AmericaNewsroom) October 28, 2020
She predicted there will be a vaccine available by the end of the year.
In the press release, the White House said the Trump administration took "decisive actions to engage scientists and health professionals in academia, industry, and government to understand, treat, and defeat the disease," as IJR previously reported.
During a rally in Florida on Friday, Trump told supporters the United States is "rounding the corner beautifully."
The United States is still seeing an increase in the number of COVID-19 cases reported.
There has been an average of 73,094 cases per day over the past week, a 39% increase from the average two weeks earlier, according to The New York Times.