'Whoa, Commissioner!' Mark Morgan Gets Challenged by Lou Dobbs on Airport Screening Procedures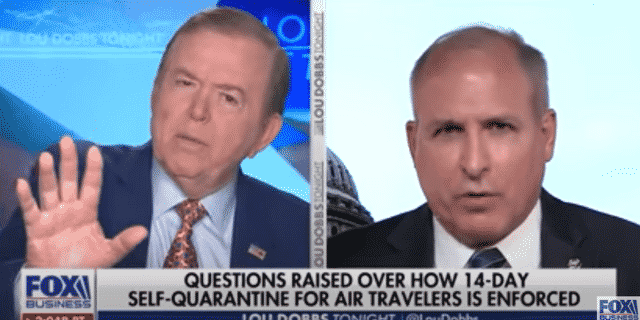 Fox Business Network host Lou Dobbs and acting Customs and Border Protection (CBP) Commissioner Mark Morgan got into a heated debate when discussing screening procedures at airports and apparent loopholes.
Dobbs began the segment to discuss questions arising around airports screening in-coming travelers' temperatures amid the coronavirus pandemic.
He said, "A lot of questions are arising. The announcement that some airports would be, for example, screening for temperatures. When I think much of the country just assumed that that was taking place in the face of this pandemic. Why is it only taking place now?"
When Morgan then began to say, "Let's go back to what you started and what this president did, the historic, unprecedented travel restrictions," Dobbs then interrupted.
"Whoa, whoa, whoa, Commissioner!" Dobbs said.
He continued as he reiterated his question:
"Let me say, Mark, you and I, we know each other well. I respect you deeply, and I always felt that was reciprocated. Let's deal with what I'm asking because it's important, it's very important. The history–this audience understands the history. The reality is that those temperature checks, most Americans believed they were already in place. Why were they not?"
"I'm coming at this from a law enforcement perspective. I'm not the medical expert here," Morgan responded.
The acting CBP commissioner continued:
"What we are doing though is we are working with the CDC, HHS and other health care providers to come up with a solution that is effective, a common sense, effective solution. And right now, Lou, what we've done, those entering the countries including those areas, CDP, we have screened almost 300,000 people."
Watch the video below:
"That's terrific," Dobbs said following Morgan's remarks. The Fox Business host then reported that it has been three months into the coronavirus outbreak and "temperatures, apparently, haven't been taken to this point or there wouldn't have been an announcement last week that you were beginning those temperature screenings."
Dobbs continued to note the travel ban from China along with other countries.
"Yet I think, again, most Americans are surprised to learn we're talking about millions of people, not hundreds of thousands or tens of thousands, coming into this country from nations that were banned," he said. "And we're not talking about U.S. nationals, we're talking about foreign nationals."
Morgan responded, "Look, Lou, this president's been very clear as well, there has to be a balance. There has to be a balance between addressing the very real concerns from a public health standpoint as well as an economic standpoint. … We just can't turn off and shut everything off."
"We know there are a lot of people who have had screening who are completely asymptomatic including the temperature check that later were found out to have had COVID."
"I commend you for that because so many government agencies, in fact, never, never acknowledge that there is room for improvement, never acknowledge, in point of fact, that their systems are in place are not perfect," Dobbs later said.
As of Friday morning, there are more than 1.6 million confirmed coronavirus cases in the U.S. In Russia, there are over 326,000 reported cases, while Brazil has over 310,000 reported cases and the U.K. has more than 252,000 confirmed cases.