Bob Woodward Pressed on Why He Sat on Trump Audio Clips About COVID-19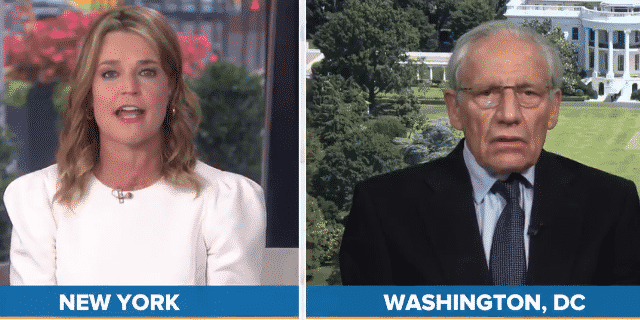 Journalist Bob Woodward is being grilled for sitting on the audio clips of President Donald Trump admitting to downplaying the coronavirus pandemic.
The investigative journalist appeared on "The Today Show" on Monday where he discussed his new book "Rage," which offers an in-depth look at Trump's presidency.
"The biggest revelation, by far, from this book is that the president told you way back on February 7 that this coronavirus was airborne, that it was five times more deadly than the flu," said host Savannah Guthrie. "As you well know, you've been criticized for not releasing that information until now."
Guthrie also noted that not only has the president criticized Woodward but also commentators have reiterated the fact that as nearly 200,000 Americans died of coronavirus, he did not come forward with the information he had.
When asked why he withheld the information, Woodward attempted to justify his actions insisting.
"Because in February, I thought it was all about China because the president had told me about a discussion with Chinese President Xi," Woodward said.
See their exchange below:
Why didn't you publish this information until now? –@SavannahGuthrie asks @realBobWoodward about his book that reveals President Trump downplayed the coronavirus to the American public. pic.twitter.com/udYPnonSd7

— TODAY (@TODAYshow) September 14, 2020
Not deterred, Guthrie went on to highlight the contradictions in Trump's rhetoric as she questioned why that, alone, was not enough for Woodward to release the information.
She noted the timeline that followed Trump's remarks on February 7 where he admitted the coronavirus is five times worse than the seasonal flu due to the possibility of airborne transmission. Despite being aware of that, Trump spent the weeks that followed publicly insisting that coronavirus was no different than the flu and that it would go away.
"If there was any suggestion I had that that was about the United States, I would have, of course, published it," Woodward said. "I think I have a public health and public safety responsibility."
As states across the country continue to combat the coronavirus, Trump has appeared to continue to downplay the severity of it.
On Sunday, the president was criticized for holding a fully-indoor campaign rally in Nevada, as IJR reported.
As the fall season approaches, the United States currently has more than 6.7 million confirmed coronavirus cases.