News
'Wow': CNBC Hosts Shocked by September's Jobs Report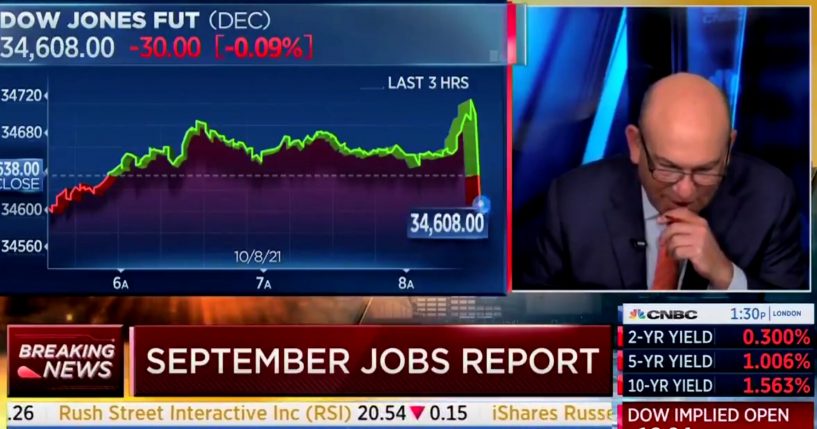 CNBC hosts reacted to the "real low" September's jobs report, saying it was "definitely a weaker number than expected."
Looking at the jobs report, Steve Liesman replied, "Wow."
He added, "194," referring to the 194,000 jobs added last month.
Advertisement - story continues below
Becky Quick responded, "Whoa!"
Liesman continued, "I see 194,000? That is real low."
CNBC's Steve Liesman on the 194,000 jobs added in the month of September, "Wow…that is real low." pic.twitter.com/l6jaVA3mqE

— House Republicans (@HouseGOP) October 8, 2021
Commenting on the jobless rate, Liesman explained, "Wow, big decline, 4.8 percent, 5.1 was expected. Let me … see if I can find where the jobs were, and I think in this case, where the jobs weren't."
Advertisement - story continues below
He suggested "it was definitely a weaker number than expected," adding, "Nothing really going on in leisure and hospitality. Declines in nursing. Where else do we have any declines? Not really any big declines here, just not, Becky, the numbers that you need to put people back to work right now. September now coming in weaker than August … and I think that's the big story here."
CNBC noted the Dow Jones estimated 500,000 jobs would be added to the economy in September. Additionally, the outlet pointed out the survey came as the number of COVID-19 cases peaked in the United States.
Several Republican lawmakers took to Twitter to comment on the jobs report and take a swipe at the Biden administration.
President Biden's failed economic policy has created an economic crisis.

September's jobs report is the WORST of the year.

— Rep. Elise Stefanik (@RepStefanik) October 8, 2021
🚨 Another disastrous Biden Jobs Report. The worst of the year. Even CNN admits it.

Only 194,000 jobs added.

When there were supposed to be 500,000.

Joe Biden can't do anything right.

When will Democrats finally admit this administration is a total failure? pic.twitter.com/EPQbUeK3ba

— Steve Scalise (@SteveScalise) October 8, 2021
Advertisement - story continues below
The worst #JobsReport of the year.

September only added 194,000 jobs vs. 500,000 expected.

From Afghanistan to the border to our economy, the Biden administration continues to miss the mark — badly. pic.twitter.com/u55WFCcpd7

— Rep. Vicky Hartzler (@RepHartzler) October 8, 2021
Another disappointing jobs report for this administration.

Our economy remains well short of full employment—having only added 194K of the 500K expected jobs in September.https://t.co/hk3LYyphl0

— Tim Scott (@SenatorTimScott) October 8, 2021
Dismal #JobsReport today. U.S. job growth fell to the slowest pace of the year. There are millions of job openings, but Americans are leaving the workforce in staggering numbers.
Dem promises of tax hikes & "free everything" isn't helping job growth or rising inflation.

— Senator John Thune (@SenJohnThune) October 8, 2021
House Speaker Nancy Pelosi (D-Calif.) issued a statement responding to the report, saying it is "additional proof of the need for Democrats' jobs-creating Build Back Better agenda."
Advertisement - story continues below
She continued, "While historic progress to create jobs, lower unemployment and defeat the pandemic has been forged under President Biden and Congressional Democrats, more must be done to protect families' financial security now and for generations to come."
Pelosi argued, "Build Back Better will be transformative for America's workers and middle class.  We must Build Back Better for jobs: jobs in health care by strengthening the ACA, delivering the Medicaid expansion to those in need and improving Medicare benefits; jobs in family health with the Biden Child Tax Credit, child care, universal pre-school, home health care, family and medical leave, and more; and jobs in climate by creating the clean energy economy of the future."
Truth and Accuracy
We are committed to truth and accuracy in all of our journalism. Read our editorial standards.
Comment Down Below
Conversation