Andrew Yang's 'Happy-Go-Lucky Style' Lands Him a New Role as a CNN Political Commentator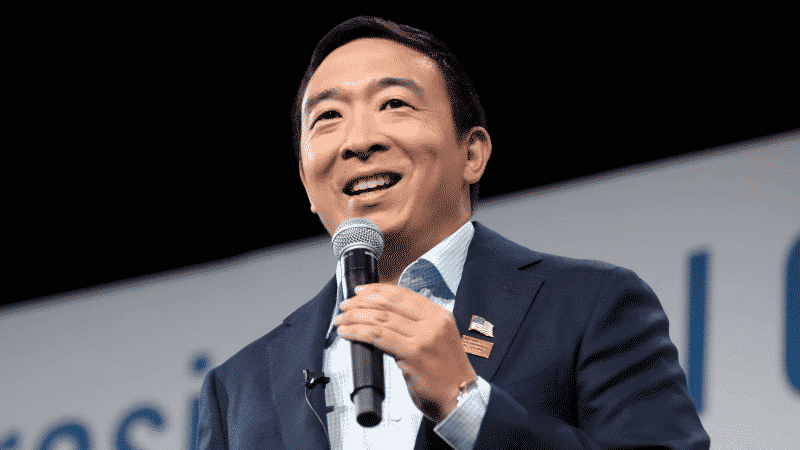 Entrepreneur Andrew Yang is not finished making appearances after dropping out of the 2020 presidential race.
Yang will become a political commentator for CNN, as the network announced on Wednesday.
CNN touted Yang as a man who "rose from obscurity to become a highly-visible candidate, rallying a coalition of liberal Democrats, libertarians and some disaffected Republicans to form a devoted group of followers known as the Yang Gang."
The network continued to write that "Yang's campaign was defined by the candidate's happy go-lucky style." It added:
"Videos of him singing in a church choir, dancing to the 'Cupid Shuffle' and crowdsurfing at events regularly went viral, helping burnish his image as a candidate just happy to be with his fans."
Yang dropped his presidential bid on Feb. 11 after seeing it was "clear from the numbers we're not going to win this campaign," he told supporters. Afterward, Yang told CNN that he "will support whoever the Democratic nominee is" and that he would "not rule out running for office again."
Along with CNN's announcement of his new role, Yang wrote on Twitter that he will make his debut on Wednesday night to discuss the 2020 Democratic debate that will take place in Las Vegas, Nevada.
"Maybe I'll wear a tie," Yang tweeted.
I'm excited to join @CNN to help shed light on the election and the candidates' experiences. Learned a lot these past months and am glad to contribute to the public discussion.

— Andrew Yang🧢🇺🇸 (@AndrewYang) February 19, 2020
Will likely live tweet the debate tonight.

— Andrew Yang🧢🇺🇸 (@AndrewYang) February 19, 2020
There are different ways to move our vision for the country forward.

— Andrew Yang🧢🇺🇸 (@AndrewYang) February 19, 2020
There will be six 2020 Democratic presidential contenders on the debate stage on Wednesday — including former New York City Mayor Michael Bloomberg, former Vice President Joe Biden, Sens. Bernie Sanders (Vt.), Elizabeth Warren (Mass.), Amy Klobuchar (Minn.), and former South Bend, Ind., Mayor Pete Buttigieg. However, there are still eight Democrats vying for the party's nomination in 2020.