News
Americans Have Been Reportedly Paying More in Taxes Since the Start of Biden's Presidency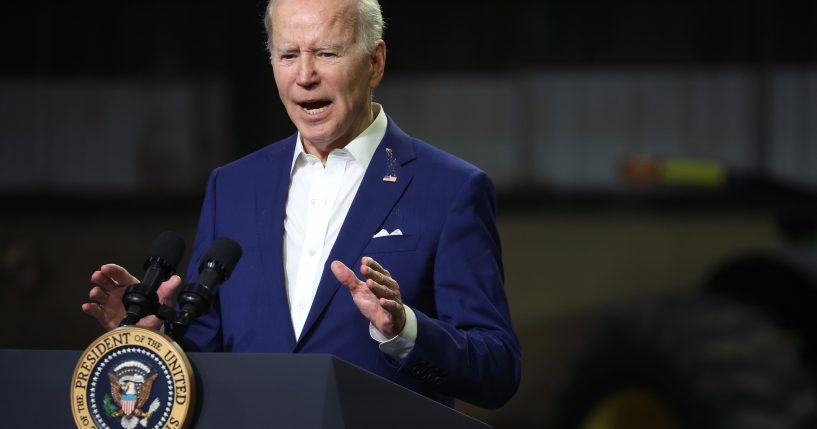 Since the beginning of President Joe Biden's time in the White House, Americans have reportedly been paying more in taxes.
The Washington Times reported on data released by the U.S. Treasury showing more than $2.1 trillion in taxes had been collected between October 2021 and March 2022.
The outlet noted the figure represents the first time in history that more than $2 trillion in taxes was collected over six months.
Advertisement - story continues below
The agency collected more than $1.1 trillion from individual income taxes.
Close to $697 billion was collected from social insurance and retirement taxes.
The Times explained, "For the last quarter of 2021, U.S. GDP grew by nearly 7%, reflecting the recovery from the COVID-19-induced economic shutdown, while the major stock market indexes also posted strong gains during the period."
Additionally, $127 billion was collected from taxes or record corporate earnings.
Advertisement - story continues below
"Customs duties raised more than $48 billion. Excise taxes levied on manufactured goods at the time of production, brought in more than $38 billion," the Times reported.
More than $14 billion came from estate and gift taxes.
The president previously laid out tax increases, including a Billionaire Minimum Income Tax.
The tax would create a 20% minimum tax on American households that are worth over $100 million, as Fox News reported.
Sen. Kyrsten Sinema (D-Ariz.) crushed Biden's hope for his tax plan.
Advertisement - story continues below
"I am unwilling to support any tax policies that would put a break on that type of economic growth or stall business and personal growth for America's industries," Sinema said.
She added, "I retain that position. Everyone knows it. Not everyone's happy about it, but that's my position."
Sinema also expressed her disapproval for Biden's proposal to raise the corporate tax.
"You all know, the entire country knows, that I am opposed to raising the corporate income tax. That was true yesterday, that is true today," Sinema said.
Truth and Accuracy
We are committed to truth and accuracy in all of our journalism. Read our editorial standards.
Comment Down Below
Conversation