Sen. Amy Klobuchar on Some States Still Counting Ballots: 'We Have To Allow Democracy To Work'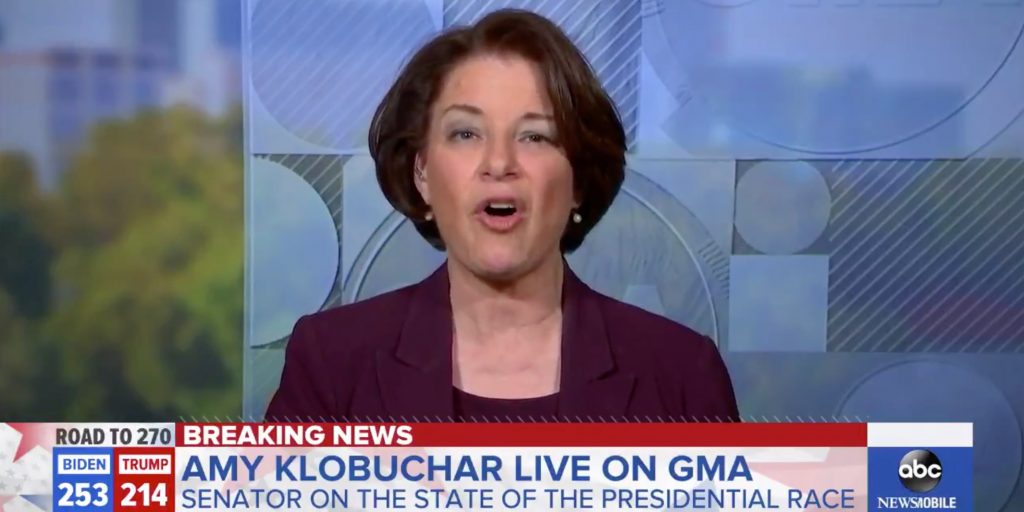 As Tuesday drew into Wednesday and into Thursday, the United States was still unsure about who will lead it for the next four years. In an election season that has been dominated by the coronavirus pandemic, millions of Americans voted by mail-in ballot and as those votes are being counted, the president called for the votes to stop being counted while others are urging patience.
During an interview on ABC News on Thursday, Sen. Amy Klobuchar (D-Minn.) was asked about President Donald Trump's false declaration of victory in Pennsylvania.
"I can only say that I'm not surprised. This is the kind of behavior we've seen from this president," Klobuchar responded. "But we must let the votes be counted."
She continued, "These states that are late counting, we expected this. Pennsylvania [and] Wisconsin — they don't start counting until the day of the election. But also states like Georgia, Arizona. They have Republican governors and what you see right now in a bipartisan, nonpartisan way is election officials diligently counting the votes."
Klobuchar added, "The president can tweet out whatever he wants. We have to allow democracy to work."
Watch Klobuchar's interview below:
"We have to allow democracy to work."

Sen. Amy Klobuchar tells @GStephanopoulos the American people shouldn't be concerned that some states are still counting ballots. https://t.co/onylT193P0 pic.twitter.com/QC85IyYcVe

— ABC News (@ABC) November 5, 2020
In the early hours of Wednesday morning, President Donald Trump and Democratic presidential nominee Joe Biden both appeared in front of supporters.
Trump told a small crowd at the White House, "We were getting ready to win this election. Frankly, we did win this election. This is a major fraud on our nation. We want the law to be used in a proper manner. So we'll be going to the U.S. Supreme Court. We want all voting to stop."
On Thursday morning, Trump took his demands a step further, tweeting "STOP THE COUNT." He also tweeted, "ANY VOTE THAT CAME IN AFTER ELECTION DAY WILL NOT BE COUNTED!"
At that time, votes were still being counted in a number of states, most importantly in Georgia, Pennsylvania, Arizona and Nevada. The results in those states will determine the outcome of the election.