News
Audio: Trump Defends 'Hang Mike Pence' Chant by Rioters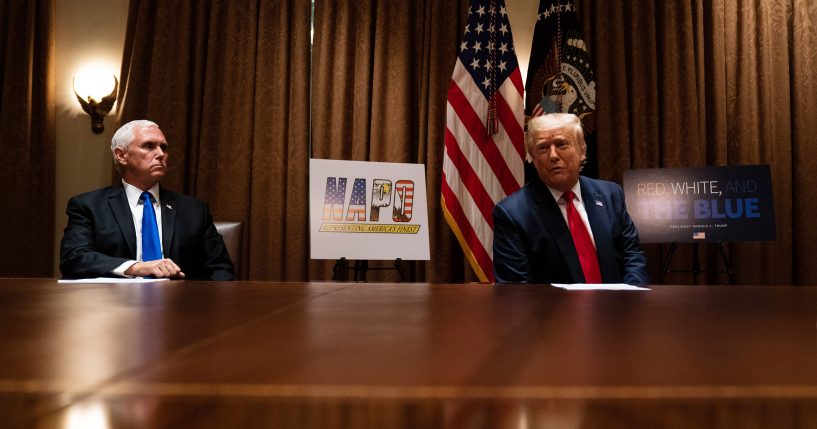 Former President Donald Trump defended chants against former Vice President Mike Pence that were heard at the U.S. Capitol during the riot on January 6.
ABC News Chief Washington Correspondent Jonathan Karl posted audio of his March interview with Trump for his book, "Betrayal: The Final Act of the Trump Show."
Karl asked Trump, "Were you worried about him during that siege? Were you worried about his safety?"
Advertisement - story continues below
Trump replied, "No, I thought he was well-protected, and I had heard that he was in good shape. No. Because I had heard he was in very good shape. But, but, no, I think…"
Karl interrupted, "Because you heard those chants — that was terrible. I mean…"
The former president explained, "He could have — well, the people were very angry."
The reporter noted the crowd was chanting "hang Mike Pence."
Advertisement - story continues below
Trump replied, "Because it's common sense, Jon. It's common sense that you're supposed to protect. How can you — if you know a vote is fraudulent, right? — how can you pass on a fraudulent vote to Congress?"
The former president continued, "How can you do that? And I'm telling you: 50/50, it's right down the middle for the top constitutional scholars when I speak to them."
During the interview, Trump also claimed, "Anybody I spoke to — almost all of them at least pretty much agree, and some very much agree with me — because he's passing on a vote that he knows is fraudulent."
Listen to Trump's comments below:
When I interviewed Trump for "Betrayal" and asked him about his supporters chanting "Hang Mike Pence", he didn't condemn them, he defended them. Here's a clip from the interview. More audio from the genuinely shocking interview will air Sunday on @ThisWeekABC pic.twitter.com/MlnhTgw8Cu

— Jonathan Karl (@jonkarl) November 12, 2021
Advertisement - story continues below
According to Trump, when he spoke to Pence, "I really talked about all of the fraudulent things that happened during the election. I didn't talk about the main point, which is the legislatures did not approve — five states. The legislatures did not approve all of those changes that made the difference between a very easy win for me in the states, or a loss that was very close, because the losses were all very close."
In case you missed it:
No matter how much Mike Pence grovels, he'll never convince the people who wanted to hang him at the Capitol on January 6.pic.twitter.com/jDK0pd7KQ7

— Keith Boykin (@keithboykin) September 10, 2021
The release of the audio comes just days after Karl told Stephen Colbert he was not allowed to publish photos of Pence that were taken during the riot, as IJR reported.
Advertisement - story continues below
"I got ahold of the photographer, I actually saw all of the photographs… This is the vice president of the United States, and he's like holed up in a basement," Karl said.
He suggested "the January 6 committee is going to want to see those photos."
Truth and Accuracy
We are committed to truth and accuracy in all of our journalism. Read our editorial standards.
Comment Down Below
Conversation