News
ABC's Jon Karl: 'They Refused To Let Me Publish' Photos of Pence on Jan. 6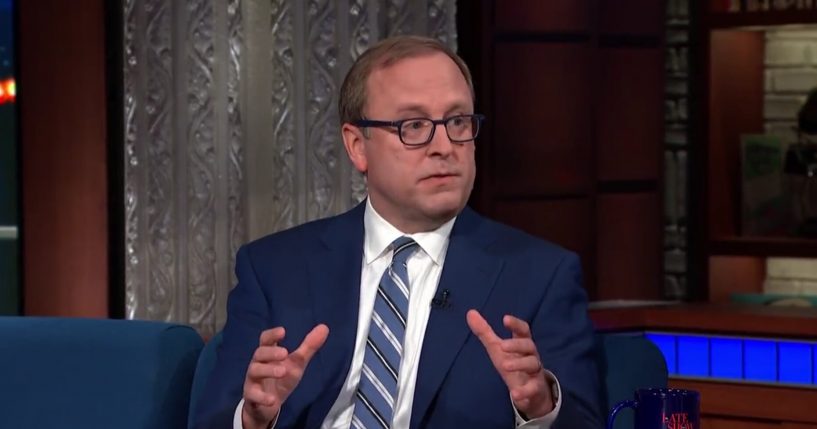 ABC News chief Washington correspondent Jonathan Karl says he was not allowed to publish photos of Vice President Mike Pence that were taken during the January 6 riot at the U.S. Capitol.
During a Monday night interview with Stephen Colbert, Karl discussed his book, "Betrayal: The Final Act of the Trump Show."
Karl told Colbert that he learned that "during the riot Mike Pence had with him, the entire time, a photographer, an official White House photographer."
Advertisement - story continues below
He explained, "I got ahold of the photographer, I actually saw all of the photographs… This is the vice president of the United States, and he's like holed up in a basement."
Karl said one of the photos shows the former vice president's chief of staff "showing him his phone and it's the tweet of Trump, saying, 'Mike Pence didn't have the courage.'"
According to the chief Washington correspondent, "It kind of looks like Pence is grimacing, but you can never really tell."
He claimed "they refused to let me publish the photographs," adding, "But I have a suspicion that the January 6 committee is going to want to see those photos."
Advertisement - story continues below
Watch Karl's comments below:
TONIGHT! @jonkarl talks about the Jan 6th photos former VP Mike Pence doesn't want the public to see. #LSSC pic.twitter.com/TkzrIMkeWc

— The Late Show (@colbertlateshow) November 9, 2021
In Karl's book, he also reports on Trump's alleged vow to create his own political party, as IJR reported.
Trump told Republican National Committee (RNC) Chairwoman Ronna McDaniel on his last day in office, "I'm done. I'm starting my own party."
She responded, "You cannot do that. If you do, we will lose forever."
Advertisement - story continues below
Still, Trump explained, "Exactly. You lose forever without me. I don't care."
The former president responded to Karl's book in a statement, saying, "It's a totally made up and fabricated story, it's Fake News. Jonathan Karl is a third-rate reporter working for ABC Non-News."
He continued, "ABC Non-News and 3rd rate reporter Jonathan Karl have been writing Fake News about me from the beginning of my political career. Just look at what has now been revealed about the Russia, Russia, Russia hoax."
Truth and Accuracy
We are committed to truth and accuracy in all of our journalism. Read our editorial standards.
Comment Down Below
Conversation