News
Trump Said He Was 'Done With the Republican Party' on Last Day in Office, Book Claims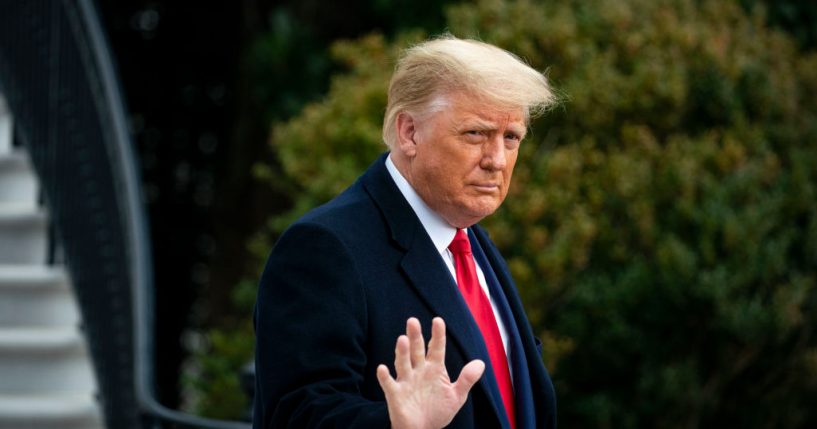 Former President Donald Trump reportedly "was done with the Republican Party," he told Republican National Committee (RNC) Chairwoman Ronna McDaniel on his last day in office, according to a new book.
The former president told her during a phone call he would be leaving the Republican Party and forming a new party, according to ABC News Chief Washington Correspondent Jonathan Karl's book, "Betrayal: The Final Act of the Trump Show."
After he boarded Air Force One on January 20, Trump received a call from McDaniel to "wish him farewell," but, "It was a very un-pleasant conversation," Karl writes.
Advertisement - story continues below
As Karl writes:
"Donald Trump was in no mood for small talk or nostalgic goodbyes. He got right to the point. He told her he was leaving the Republican Party and would be creating his own political party. The president's son, Donald Trump Jr., was also on the phone. The younger Trump had been relentlessly denigrating the RNC for being insufficiently loyal to Trump. In fact, at the January 6 rally before the Capitol Riot, the younger Trump all but declared that the old Republican Party didn't exist anymore."
Trump told McDaniel, "I'm done. I'm starting my own party," according to Karl's book. He cites two people familiar with knowledge of the conversation.
She said, "You cannot do that. If you do, we will lose forever."
Advertisement - story continues below
However, Trump responded, "Exactly. You lose forever without me. I don't care."
As ABC News reports, "Trump's attitude was that if he had lost, he wanted everybody around him to lose as well, Karl writes. According to a source who witnessed the conversation, Trump was talking as if he viewed the destruction of the Republican Party as a punishment to those party leaders who had betrayed him."
Additionally, Trump reportedly said during the call, "This is what Republicans deserve for not sticking up for me."
McDaniel said, "This isn't what the people who depended on you deserve, the people who believed in you. You'll ruin your legacy. You'll be done."
In his book, Karl writes:
Advertisement - story continues below
"[Trump] wasn't simply floating an idea. He was putting the party chairwoman on notice that he had decided to start his own party. It was a done deal. He had made up his mind. 'He was very adamant that he was going to do it,' a source who heard the president's comments later told me."
An official for the RNC told Karl, "We told them there were a lot of things they still depended on the RNC for, and that if this were to move forward, all of it would go away."
"McDaniel and her leadership team made it clear that if Trump left, the party would immediately stop paying legal bills incurred during post-election challenges," Karl also wrote, adding, "But, more significant, the RNC threatened to render Trump's most valuable political asset worthless."
According to Karl, Trump backed down from plans to leave the Republican Party five days later.
Advertisement - story continues below
McDaniel told ABC News the story in the book is "false" and that she "never threatened President Trump with anything." Trump also told Karl it was "bulls**t" the claim he was thinking to start another party.
Karl's book is expected to be released on November 16.
Truth and Accuracy
We are committed to truth and accuracy in all of our journalism. Read our editorial standards.
Comment Down Below
Conversation