News
Barrasso Torches Biden As the 'Mad Hatter': His Agenda is 'Alice in Wonderland Logic'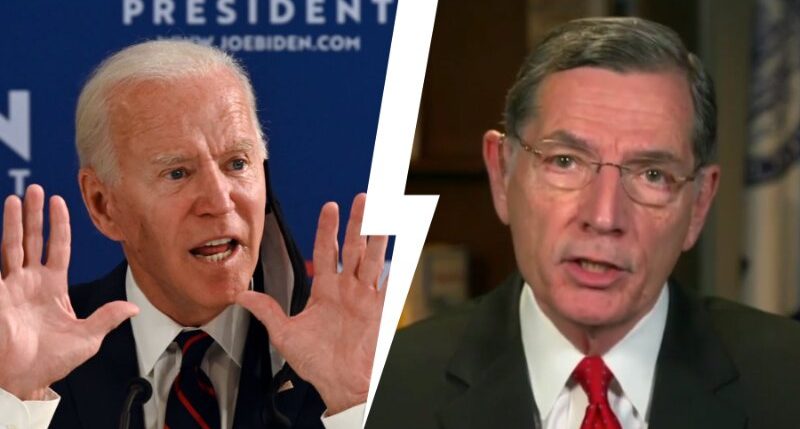 Sen. John Barrasso (R-Wyo.) tore into President Joe Biden and his social spending agenda.
During an interview on "Fox News Sunday," the Republican lawmaker weighed in on the $1.75 trillion Build Back Better Act passed by the House of Representatives earlier this month.
"We have record inflation right now. I view this as a back-breaking bill for the country with the kind of expenses, the spending, the adding to the debt, the inflation, the taxes that are going to hit the American people," Barrasso said on Sunday.
Advertisement - story continues below
He then likened the president to a fictional character from "Alice in Wonderland," "For Joe Biden to say 'We have to spend even more money on top of inflation,' to me this is 'Alice in Wonderland' logic. He's the Mad Hatter out here."
Watch Barrasso's comments below (starting around 2:15):
Advertisement - story continues below
The House narrowly passed the Build Back Better Act on November 19, in a 220 to 213 vote, as IJR reported on.
Is Biden like the "Mad Hatter"?
The Build Back Better Act includes investments in universal preschool, affordable "high quality" child care, "expanded child tax credit," among others. It also includes roughly $555 billion in investments in "clean energy and combatting climate change," as well as $150 billion in housing, among other policies.
As the summary of the bill reads, "This bill provides funding, establishes programs, and otherwise modifies provisions relating to a broad array of areas, including education, labor, child care, health care, taxes, immigration, and the environment."
New — WH releases framework proposal, detailing what's in the $1.75T plan. https://t.co/gGah4JkVsE pic.twitter.com/x584XFdUZH

— Manu Raju (@mkraju) October 28, 2021
Advertisement - story continues below
As lawmakers return from Thanksgiving break, they face hurdles for Biden's Build Back Better Act as well as facing a partial government shutdown with the deadline on Friday.
Senate Majority Leader Chuck Schumer (D-N.Y.) has expressed that Senate Democrats want to pass the Build Back Better Act before Christmas.
Truth and Accuracy
We are committed to truth and accuracy in all of our journalism. Read our editorial standards.
Comment Down Below
Conversation