News
Beto O'Rourke Appears to Back Away From Previous Position on Guns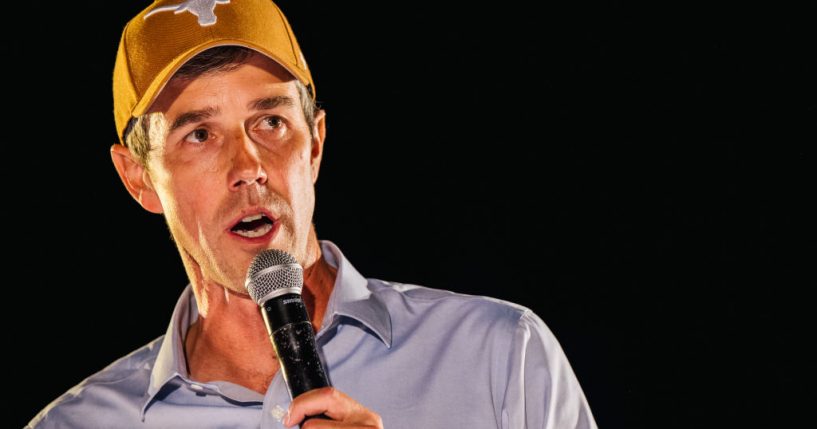 Texas Democratic gubernatorial candidate Beto O'Rourke seemingly shifted from his previous position on guns, saying he wants to "defend the Second Amendment."
While speaking to reporters, O'Rourke was asked about his position on guns and comments he made in 2019 about taking away guns, as KLTV reported.
"I'm not interested in taking anything from anyone. What I want to make sure that we do is defend the Second Amendment," he responded.
Advertisement - story continues below
O'Rourke added, "I want to make sure that we protect our fellow Texans far better than we're doing right now. And that we listen to law enforcement, which Greg Abbott refused to do. He turned his back on them when he signed that permitless carry bill that endangers the lives of law enforcement in a state that's seen more cops and sheriff's deputies gunned down than in any other."
During a Democratic presidential primary debate in September 2019, moderator David Muir asked O'Rourke about his gun control plan.
"Are you proposing taking away their guns? And how would this work?" Muir asked.
O'Rourke responded, "Hell, yes, we're going to take your AR-15, your AK-47."
Advertisement - story continues below
He continued, "I am, if it's a weapon that was designed to kill people on a battlefield. If the high-impact, high-velocity round, when it hits your body, shreds everything inside of your body, because it was designed to do that, so that you would bleed to death on a battlefield and not be able to get up and kill one of our soldiers."
The Democrat's campaign later tweeted to promote his plan.
"Donate," the campaign wrote.
Donate: https://t.co/yY8kKu7p8W pic.twitter.com/W0jj4liGkU

— Beto O'Rourke (@BetoORourke) September 13, 2019
In November, O'Rourke announced he would be running for governor, as IJR previously reported.
Advertisement - story continues below
"Together, we can push past the small and divisive politics that we see in Texas today — and get back to the big, bold vision that used to define Texas. A Texas big enough for all of us," O'Rourke said in a video announcement.
Truth and Accuracy
We are committed to truth and accuracy in all of our journalism. Read our editorial standards.
Comment Down Below
Conversation