Biden Blasts Trump's Bible 'Photo Op': 'If He Opened It, He Could've Learned Something'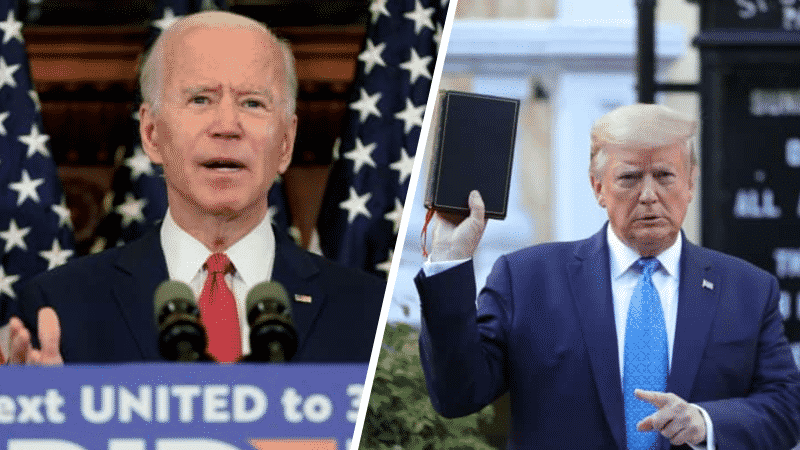 Former Vice President Joe Biden delivered an emotional speech to the nation on Tuesday morning in which he condemned President Donald Trump's Monday walk to a church across the street from the White House where Trump posed with a Bible.
Biden began his remarks in Philadelphia by quoting some of the last words of George Floyd — "I can't breathe."
Minutes later, Biden laid into Trump, saying "when peaceful protesters dispersed in order for a president, a president from the doorstep of the people's house — the White House — using tear gas and flash grenades in order to stage a photo op. A photo op of one of the most historic churches in the country, or at least in Washington DC."
Biden added, "the president held up the Bible at St. John's church yesterday, I just wish he opened once in a while instead of brandishing it. If he opened it, he could've learned something, that we're all called to love one another as we love ourselves. That's really hard work, but it's the work of America."
The former Veep continued, "Donald Trump isn't interested in doing that work, instead he's preening and sweeping away all the guardrails that have long protected our democracy. Guardrails that have helped make possible this nation's path to a more perfect union, a union that constantly requires reform and re-dedication."
Biden slams President Trump for his photo shoot holding a Bible: "I just wish he opened it once in a while instead of brandishing it. If he opened it, he could've learned something." https://t.co/bjE1Bdvjmy pic.twitter.com/8HFrJi1kkz

— CBS News (@CBSNews) June 2, 2020
Trump's trip to 200-year-old St. John's church to take a photo with a Bible was preceded by the tear gassing of nearby peaceful protesters and journalists.
That short walk has been condemned by Democrats and Speaker of the House Nancy Pelosi and Senate Minority Leader Chuck Schumer said in a statement, "Tear-gassing peaceful protestors without provocation just so that the President could pose for photos outside a church dishonors every value that faith teaches us."