News
'Not a Joke': Biden Says California Voters Will Get Newsom or 'You'll Get Donald Trump'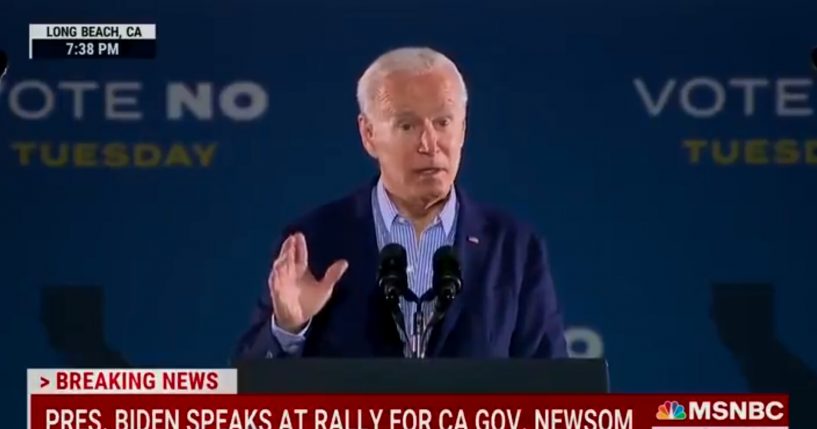 President Joe Biden is linking the California recall election to former President Donald Trump.
During an event in California on Monday to rally support for Gov. Gavin Newsom (D), Biden said, "I can go on, but here's the deal, I'm going to make this as simple as I can: You either keep Gavin Newsom as your governor, or you'll get Donald Trump."
He continued, "It's not a joke. [A] Republican governor blocking progress on COVID-19, who's also anti-women, anti-worker, climate denier, who doesn't believe in choice. The choice should be absolutely clear, Gavin Newsom. You have a governor who has the courage to lead. In Gavin, you have a governor who shares the state's values. In Gavin, you have a governor to make sure Donald Trump's dark, destructive, divisive politics never finds a place in California."
Advertisement - story continues below
Watch the video below:
Biden, who coughed a lot during his speech and at one point even apologized for doing so, repeatedly compared Elder to Trump — a comparison reflecting Trump's unpopularity in California pic.twitter.com/OXtzX1urd2

— Aaron Rupar (@atrupar) September 14, 2021
Biden's comments came a day before the California recall election when voters will decide whether or not to keep Newsom in office.
Advertisement - story continues below
Larry Elder, a longtime conservative radio host, has emerged as the front runner among candidates hoping to replace Newsom.
During the event, Biden claimed Elder is "the clone of Donald Trump."
Should Newsom be recalled?
"Can you imagine him being the governor of the state? You can't let that happen. There's too much at stake," he added.
If more than 50% of voters cast their ballot in favor of removing Newsom, he would be recalled and have to step down. His replacement would be determined by whichever candidate on the ballot received the most votes of all the contenders.
As The New York Times notes, "So 49.9 percent of the voters can back Mr. Newsom, and he can still lose to someone who is supported by only, say, 20 percent of the electorate. On the replacement question, the winner does not need a majority to be named the next governor."
Advertisement - story continues below
According to FiveThirtyEight's final average of polls of the recall election, 57.3% of voters do not want Newsom removed, while 41.5% do.
Truth and Accuracy
We are committed to truth and accuracy in all of our journalism. Read our editorial standards.
Comment Down Below
Conversation