Commentary
Biden Chides Reporter for Asking About Predictions of a Recession: 'Don't Make Things Up'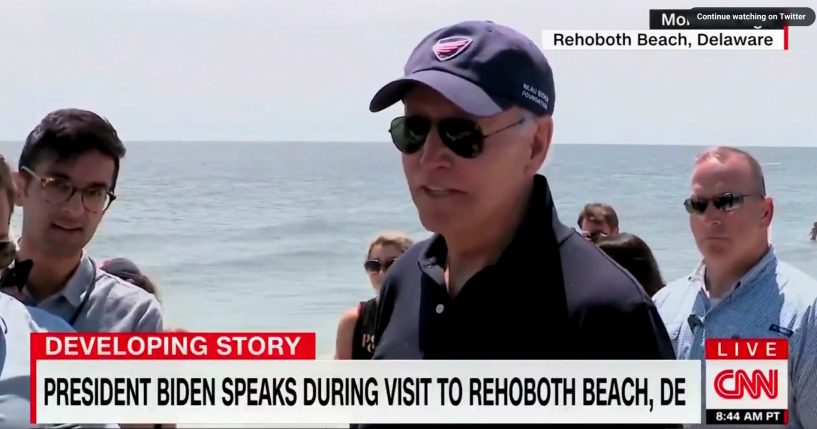 With his approval rating hovering in the low 40s, President Joe Biden reportedly believes that one way to boost his approval ratings is to be more in the public eye.
But if people thought that meant he would be more available to the press, they were mistaken. After going over 100 days without sitting down for an interview with a journalist, Biden finally agreed to do an interview with The Associated Press last week.
However, some reporters have had a difficult time asking him questions in informal settings, due to Biden ignoring them or being pulled away by First Lady Jill Biden.
Advertisement - story continues below
And there seems to be a good reason for limiting the amount of time Biden can speak unscripted to reporters. The chances are high that he'll say something that makes no sense or has to be walked back, or he could yell at them.
Or, like on Monday, he might accuse them of making stuff up and downplay the question.
A reporter asked the president about some economists who are warning that a "recession is more likely than ever."
"Not — the majority of them aren't saying that. Come on, don't make things up, okay," Biden fired back.
Advertisement - story continues below
He added, "Now you sound like a Republican politician. I'm joking. That was a joke."
Watch the video below:
Do you think a recession is on the way?
Biden snaps at reporter asking about economists forecasting a recession: "The majority aren't saying that. Don't make things up, OK. Now you sound like a Republican politician. I'm joking, that was a joke, that was a joke." pic.twitter.com/95DjBfdn0y

— Tom Elliott (@tomselliott) June 20, 2022
Biden added, "But all kidding aside, no, I don't think it is [inevitable]."
"I was talking to [former Treasury Secretary] Larry Summers this morning, and there's nothing inevitable about a recession," he insisted.
Advertisement - story continues below
It may be true that a majority of economists are not predicting that the economy is heading toward a recession.
However, there are some who are.
JPMorgan Chase CEO Jamie Dimon said at a financial conference earlier this month that there is an "economic hurricane" on the way.
"That hurricane is right out there down the road coming our way… You better brace yourself," he added.
Advertisement - story continues below
Meanwhile, former Treasury secretary Larry Summers told CNN that "the unfortunate, painful fact" is that the combination of low unemployment and high inflation makes a recession more likely.
After years of predictions that there would be a former President Donald Trump's tenure — setting aside the recession caused by the COVID-19 lockdowns — one might be skeptical of the current predictions of a recession.
Yes, Biden probably wants to calm Americans' nerves, as well as the market, but because he doesn't like the prospect of a recession doesn't mean it's a good idea to joke around about it — even if it is during a casual stroll on the beach — because this administration has a something of a history of dismissing warnings only to have them come to fruition.
Truth and Accuracy
We are committed to truth and accuracy in all of our journalism. Read our editorial standards.
Comment Down Below
Conversation