News
Biden Seeks to Clarify Remarks About Payments to Migrants Separated Under Trump Admin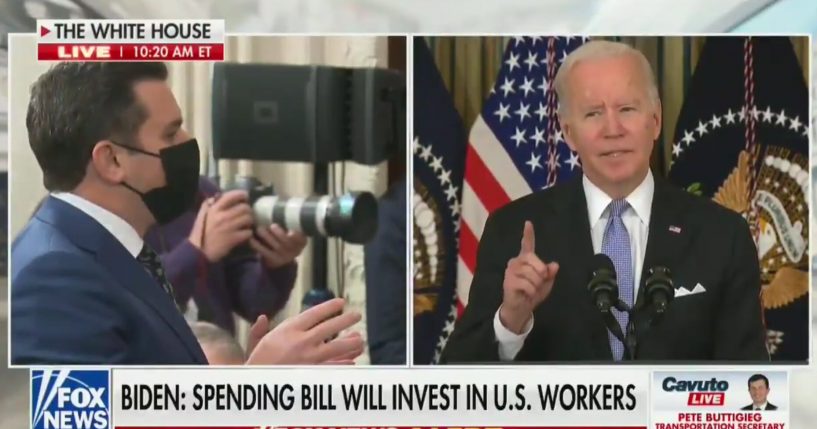 President Joe Biden's exchange with a reporter grew heated after being questioned about reports of the administration paying immigrant families separated under the Trump administration.
A reporter for Fox News noted over the weekend the president recently called the reports "garbage."
Biden fired back, "No, I didn't say that, let's get it straight. You said everybody coming across the border gets 500, $450,000.00."
Advertisement - story continues below
The reporter replied, "So the number is what you had a problem with."
Biden explained, "The number, I was referring to."
He argued, "If, in fact, because of the outrageous behavior of the last administration, you coming across the border, whether it was legal or illegal, and you lost your child. You lost, your child is gone. You deserve some kind of compensation. No matter what the circumstance. What that will be? I have no idea. I have no idea."
Watch the exchange below:
Advertisement - story continues below
WATCH: Biden Snaps at Fox News Reporter Over Payments to Migrants Separated By Trump, Says Those Families 'Deserve Compensation!' https://t.co/yfKJFRYzoQ pic.twitter.com/NWH0ja2PMH

— Tommy moderna-vaX-Topher (@tommyxtopher) November 6, 2021
The Wall Street Journal reported last month the Biden administration is in discussions to pay immigrant families separated under the previous administration roughly $450,000 a person.
Do immigrant families deserve some kind of compensation?
Biden received criticism for his comments from the American Civil Liberties Union (ACLU), as IJR reported.
ACLU Executive Director Anthony D. Romero said in a statement, "President Biden may not have been fully briefed about the actions of his very own Justice Department as it carefully deliberated and considered the crimes committed against thousands of families separated from their children as an intentional governmental policy."
He added, "But if he follows through on what he said, the president is abandoning a core campaign promise to do justice for the thousands of separated families. We respectfully remind President Biden that he called these actions 'criminal' in a debate with then-President Trump, and campaigned on remedying and rectifying the lawlessness of the Trump administration. We call on President Biden to right the wrongs of this national tragedy."
Advertisement - story continues below
As CNN noted, Trump's 2018 "zero tolerance" policy resulted in thousands of family separations, including some with infants.
Truth and Accuracy
We are committed to truth and accuracy in all of our journalism. Read our editorial standards.
Comment Down Below
Conversation