News
Biden Contradicts Response From WH About Whether He Tuned Into Jackson's Confirmation Hearing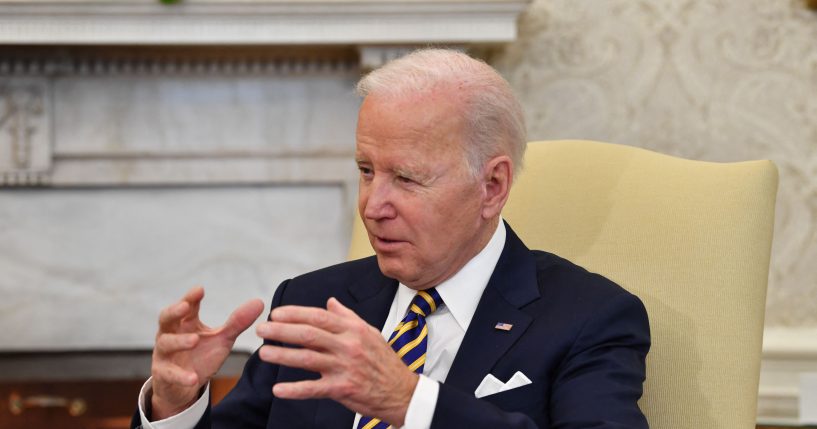 President Joe Biden's response to whether he watched his Supreme Court nominee's confirmation hearing is not the same as that of the White House.
When asked whether he was able to watch some of the hearing, Biden replied, "I didn't get a chance to see any of it, unfortunately."
In case you missed it:
Advertisement - story continues below
President Biden says he "didn't get a chance to see any" of Judge Ketanji Brown Jackson's confirmation hearing, but defends her as a nominee who is "totally, thoroughly qualified." pic.twitter.com/ugoPopVkhf

— Newsmax (@newsmax) March 28, 2022
Biden's response does not line up with White House Deputy Press Secretary Chris Meagher's statement about whether Biden tuned into the hearing last week.
"The president watched portions of Judge Jackson's hearing yesterday and today and is proud of the way she is showcasing her extraordinary qualifications, her experience and her evenhandedness," Meagher said.
He also said Biden "was also moved by the grace and dignity she has shown, the deference to senators and the level of detail she is offering, reinforcing the value of her experience, her intellect and the strength of her character."
Advertisement - story continues below
Additionally, Meagher explained the president "was also struck by how she swiftly dismantled conspiracy theories put forward in bad faith," mentioning how "they've been debunked by numerous fact checks, experts and the record itself."
A White House official told Fox News Biden "watched clips and read coverage, but not the hearing in full." 
The outlet asked the official whether Biden misspoke. They replied, "No."
Senate Judiciary Committee chairman, Sen. Dick Durbin (D-Ill.), said the panel will meet for a vote on Jackson's nomination on April 4.
Biden said on Monday Jackson "is one of the most qualified nominees ever nominated for the Supreme Court in every respect, in terms of her disposition, her intellectual capacity, her experience and background."
Advertisement - story continues below
He added, "A woman who is totally, thoroughly qualified. Totally, thoroughly qualified, and will be a great addition to the court."
Truth and Accuracy
We are committed to truth and accuracy in all of our journalism. Read our editorial standards.
Comment Down Below
Conversation