News
Video: Biden Coughs Into His Hand and Proceeds To Shake Hands With Officials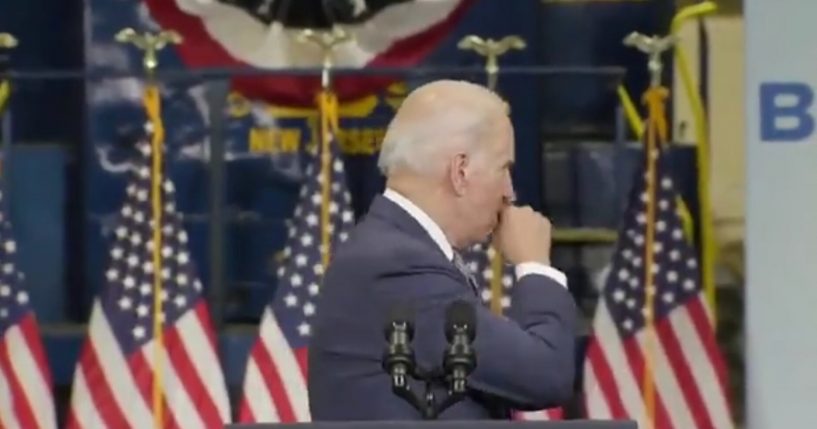 Before shaking hands with officials at an event this week, President Joe Biden coughed into his hand.
Footage shows Biden coughing into his hand as he began walking off of the stage during an event in New Jersey on Monday. He went on to greet officials and shake their hands off stage. Biden was not wearing a mask while greeting the individuals.
Watch the video below:
Advertisement - story continues below
At New Jersey event, President Biden coughs directly into his hand before shaking hands while maskless. pic.twitter.com/fY6yK2PMZl

— Breaking911 (@Breaking911) October 25, 2021
The president recently made headlines for failing to follow health guidelines. A video surfaced last week showing Biden and First Lady Jill Biden walking through a restaurant in Washington, D.C. without masks on, as IJR reported.
The restaurant, Fiola Mare, included its mask policy on its website.
"Per CDC guidance and DC Mayor Muriel Bowser's executive order,  all individuals over age 2 are required to wear a mask indoors, regardless of vaccination status. Masks must be always worn while in our restaurants, except while eating and drinking.  Thank you for understanding," the guidelines state.
Advertisement - story continues below
White House Press Secretary Jen Psaki was asked about the issue during a press briefing.
"I think what you're referring to is a photo of them walking out of a restaurant after they had eaten, masks in hand, where they had not yet put them back on yet. So I would say, of course, there are moments when we all don't put masks back on as quickly as we should but I don't think we should…lose the forest through the trees here," Psaki said.
She continued, "Our objective here is to get more people vaccinated, make sure that schools and companies around the country can put in place requirements to save more lives and keep people safer and not overly focus on moments in time that don't reflect overarching policy."
Washington, D.C.'s Mayor Muriel Bowser reinstated the indoor mask mandate back in July.
Truth and Accuracy
We are committed to truth and accuracy in all of our journalism. Read our editorial standards.
Conversation