News
Biden Says 'Long COVID' Can 'Rise To the Level of a Disability' Under Federal Law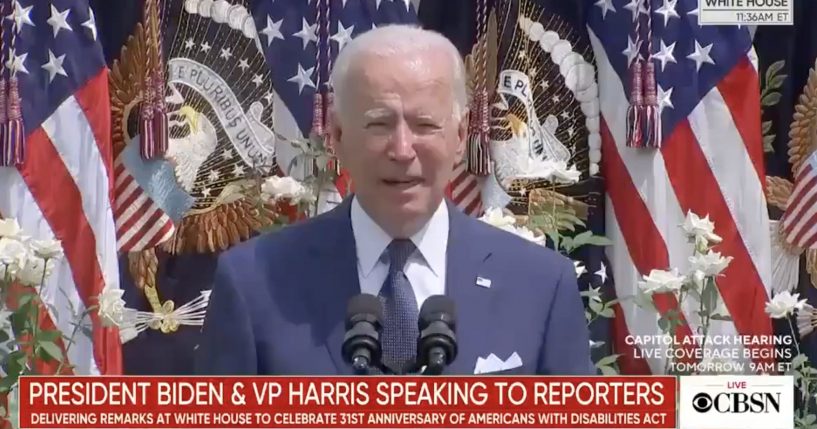 President Joe Biden said people who suffer from long Covid could be protected under the Americans with Disabilities Act.
Long Covid is a condition where people experience long-term Covid-19 symptoms after the virus is cleared from their system, as Politico reports.
Biden announced on Monday long Covid could be considered a disability.
Advertisement - story continues below
"I'm proud to announce a new effort… to help Americans grappling with long term effects of COVID-19 that doctors call long Covid. Many Americans who seemingly recover from the virus still face lingering challenges like breathing problems, brain fog, chronic pain, or fatigue. These conditions can sometimes rise to the level of a disability," Biden said.
He added, "We're bringing agencies together to make sure Americans with long Covid who have a disability have access to the rights and resources that are due under the disability law."
The president explained the accommodations are included in the workplace, schools, and health care.
Watch his remarks below:
Advertisement - story continues below
BREAKING: Biden announces Americans with disabilities from long-term COVID effects will have access to rights and resources of Americans With Disabilities Act, including school and workplace accommodations, "so they can live their lives with dignity and get the support they need" pic.twitter.com/34QWKUEPo3

— CBS News (@CBSNews) July 26, 2021
The departments of Justice and Health and Human Services issued new guidance Monday. According to the new guidance, long Covid is a physical or mental impairment.
Should long Covid be covered under the federal law?
"A physical impairment includes any physiological disorder or condition affecting one or more body systems, including, among others, the neurological, respiratory, cardiovascular, and circulatory systems," the guidance reads.
It continues, "A mental impairment includes any mental or psychological disorder, such as an emotional or mental illness."
The guidance also requires businesses or state or local governments to "make changes to the way that they operate to accommodate a person's long COVID-related limitations."
Advertisement - story continues below
Some of these changes may include: "Providing additional time on a test for a student who has difficulty concentrating. Modifying procedures so a customer who finds it too tiring to stand in line can announce their presence and sit down without losing their place in line. And providing refueling assistance at a gas station for a customer whose joint or muscle pain prevents them from pumping their own gas."
Truth and Accuracy
We are committed to truth and accuracy in all of our journalism. Read our editorial standards.
Comment Down Below
Conversation