News
Biden Pens Op-Ed on Infrastructure Deal: One the 'American People Can Be Proud Of'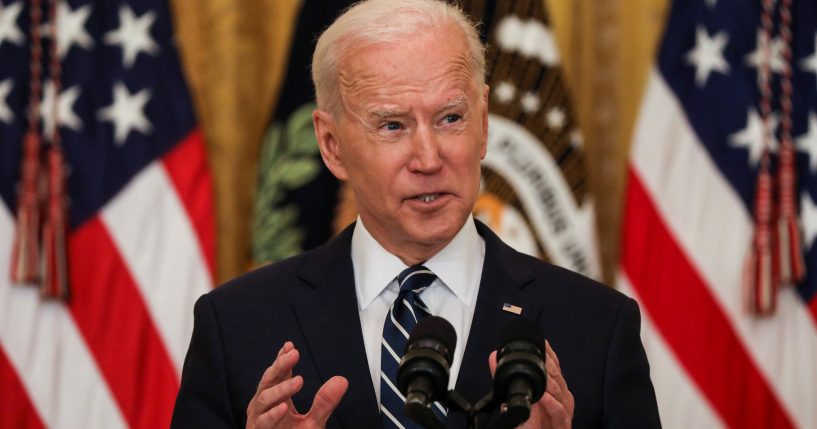 President Joe Biden says the American people "can be proud of" the bipartisan infrastructure deal.
In an op-ed on Yahoo News published Monday evening, the president wrote, "This deal is the largest long-term investment in our infrastructure in nearly a century. Economists of all stripes agree that it would create good jobs and dramatically strengthen our economy in the long run."
He added, "But the deal also represents much more. It is a signal to ourselves, and to the world, that American democracy can work and deliver for the people."
Advertisement - story continues below
Biden also cautioned, "There is plenty of work ahead to finish the job. There will be disagreements to resolve and more compromise to be forged," before adding, "But this is a deal the American people can be proud of."
Additionally, the president wrote:
"While the bill is missing some critical initiatives on climate change that I proposed — initiatives I intend to pass in the reconciliation bill — the infrastructure deal nonetheless represents a crucial step forward in building our clean energy future. It would make the largest investment in clean energy transmission in American history, modernizing our power grid to accelerate the build-out of zero-carbon, renewable energy. It would replace thousands of gas-guzzling buses with clean, electric ones — including 35,000 electric school buses. It would cap abandoned wells leaking methane gas.

And more: The deal would deploy a nationwide network of charging stations for electric vehicles — 500,000 stations in total. It makes historic investments in rail and transit that will get passenger vehicles off the road and reduce fossil fuel consumption. There's much more work to do to reach our ambitious climate goals, but the investments in this deal are critical in facilitating our transition to a clean energy economy."
Advertisement - story continues below
On Thursday, the president and a bipartisan group of senators reached a deal on an infrastructure package.
Biden sparked outrage among some Republicans after he suggested he would not sign the bipartisan infrastructure deal if a reconciliation bill is not passed by Congress. The president later sought to clarify, "My comments also created the impression that I was issuing a veto threat on the very plan I had just agreed to, which was certainly not my intent."
House Speaker Nancy Pelosi (D-Calif.) also previously indicated the House of Representatives would not vote on a bipartisan infrastructure bill until the Senate passes a reconciliation bill, according to The Hill.
Senate Minority Leader Mitch McConnell (R-Ky.) called on both Pelosi and Senate Majority Leader Chuck Schumer (D-N.Y.) to "walk-back their threats that they will refuse to send the president a bipartisan infrastructure bill unless they also separately pass trillions of dollars for unrelated tax hikes, wasteful spending, and Green New Deal socialism."
"Republicans have been negotiating in bipartisan good faith to meet the real infrastructure needs of our nation," McConnell said in his statement on Monday. "The President cannot let congressional Democrats hold a bipartisan bill hostage over a separate and partisan process."
Advertisement - story continues below
Here is the spending breakdown for the bipartisan infrastructure proposal that President Biden has endorsed: pic.twitter.com/SNIBlQvVOm

— Kaitlan Collins (@kaitlancollins) June 24, 2021
CNN's Kaitlan Collins asked White House Press Secretary Jen Psaki on Monday, "If the infrastructure bill arrives and the reconciliation package is not here yet, no one has clarified that 'Yes, he will sign it,'" as IJR reported on.
Psaki replied, "Well, again, Kaitlan, I know we're quite focused sometimes on process in here and hypotheticals. The president is focused on selling this package to the American people — both packages, I should say — that's what he'll be doing tomorrow in Wisconsin. And we'll be working closely with leaders in Congress to move both of these pieces of legislation forward."
Collins said, "So the White House is not going to say yes, he will sign the infrastructure bill if it comes alone to his desk." Psaki responded, "The president expects to sign each piece of legislation into law."
Truth and Accuracy
We are committed to truth and accuracy in all of our journalism. Read our editorial standards.
Comment Down Below
Conversation