News
Biden Praises Pelosi As the 'Finest' Speaker in the 'History of the Country'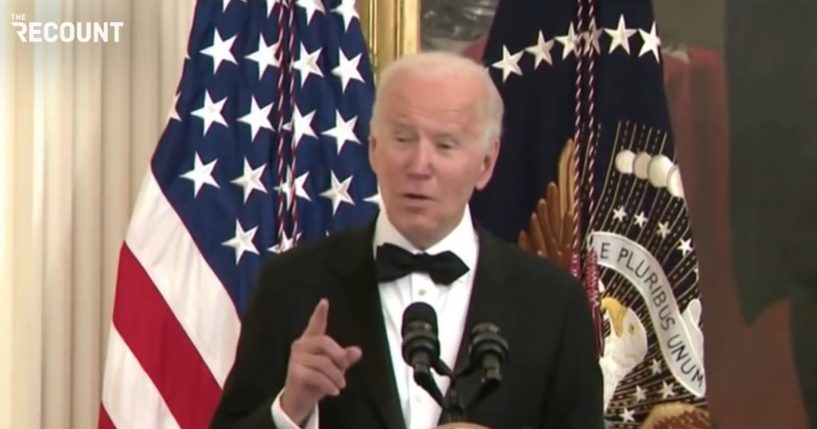 President Joe Biden is praising House Speaker Nancy Pelosi's (D-Calif.) performance as speaker, arguing it rivals that of her predecessors.
During an event on Sunday, Biden said, "It's wonderful to see Speaker Pelosi."
"I'm mildly prejudiced. I think she's the finest speaker in the history of the country," he added.
Advertisement - story continues below
Watch the video below:
President Biden calls House Speaker Nancy Pelosi "the finest Speaker in the history of the country" during 2021 Kennedy Center Honors Sunday night. pic.twitter.com/jETSdhEn5w

— The Recount (@therecount) December 6, 2021
During Biden's first year in office, Pelosi managed a slim Democratic majority in the House and managed to pass several major pieces of legislation.
In March, the House passed Biden's $1.9 trillion American Rescue Plan designed to boost the economic recovery as well as provide funds to speed up vaccinations against the virus.
Advertisement - story continues below
After that legislation, House Democrats squabbled for months over the bipartisan infrastructure bull and social spending package.
Progressive lawmakers sought assurances that the Senate would pass the roughly $2 trillion Build Back Better Act, a spending package, before they voted for the smaller infrastructure bill.
In October, Biden and Pelosi pressured House Democrats to pass the two bills. The president reportedly told lawmakers, "I don't think it's hyperbole to say that the House and Senate majorities and my presidency will be determined by what happens in the next week."
Despite the pressure to pass the legislation that week, progressive balked, and Pelosi was forced to cancel the vote.
However, the chamber advanced the infrastructure bill late on Nov. 5, sending it to Biden's desk.
Advertisement - story continues below
And two weeks later, the House narrowly voted to pass Biden's Build Back Better Act with every Republican and one Democrat voting against it.
Pelosi sparked speculation that she may be planning to retire at the end of her current term after she told reporters, "I just told members of my leadership that the reconciliation bill was a culmination of my service in Congress because it was about the children."
One reporter noted that the word "culmination" usually refers to the end of something, however, she responded, "Get out of here."
Truth and Accuracy
We are committed to truth and accuracy in all of our journalism. Read our editorial standards.
Comment Down Below
Conversation