Biden Says If Voters Believe Tara Reade They 'Probably Shouldn't Vote for Me'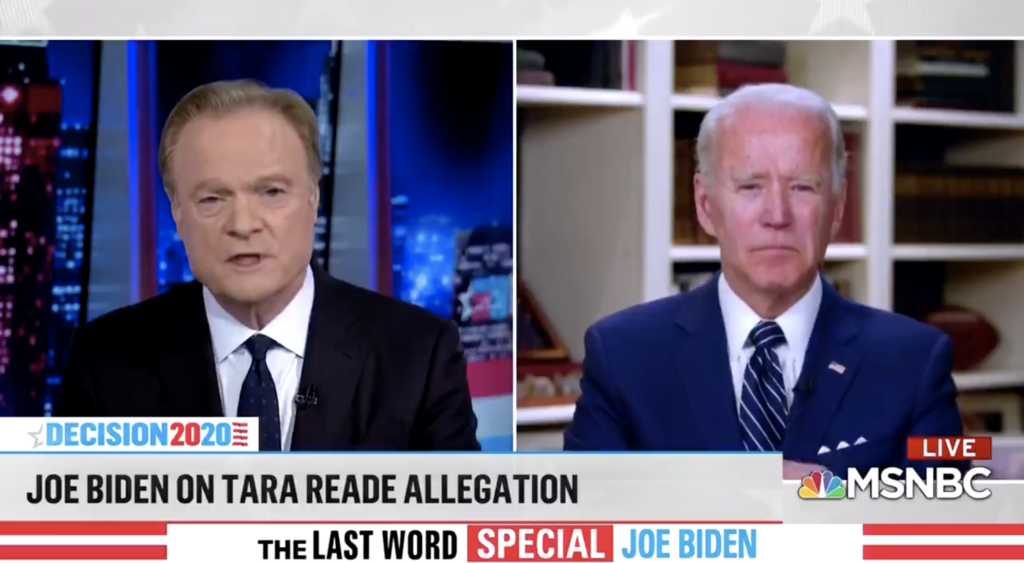 Presumptive Democratic presidential nominee Joe Biden is speaking directly to voters after publicly denying the sexual assault allegation made against him.
MSNBC's Lawrence O'Donnell asked Biden what he would say to women who may have voted for him prior to the allegation but are now hesitant because of the allegation made by Tara Reade, a former staffer while Biden was a senator.
Biden encouraged them to vote their conscience.
"I think they should vote their heart and if they believe Tara Reade, they probably shouldn't vote for me," Biden said. "I wouldn't vote for me if I believed Tara Reade."
Watch his comments below:
Biden to women who believe Tara Reade's assault allegation: "If they believe Tara Reade, they probably shouldn't vote for me. I wouldn't vote for me if I believed Tara Reade." pic.twitter.com/xGf84Jtu1S

— Aaron Rupar (@atrupar) May 15, 2020
According to Biden, Reade's story changes "considerably."
Biden doubled down on his denial of her allegation.
"I promise you it never happened. It should be vetted. She should be thoroughly looked at and whether or not this happened. Look at the story, follow the storyline, and determine if there's any truth to it," Biden said.
He added, "And there is no truth to it, I promise you."
Not only did Biden reiterate his denial of the allegation, but he also said he does not remember Reade at all.
O'Donnell asked Biden if he remembered Reade from when she worked for him as a staffer between 1992 and 1993.
He replied, "Well to be honest with you, I don't."
Check out his comments below:
Biden has repeatedly stood by his claim the assault never happened and several of his Democratic colleagues have come out in support of him.
Among his supporters include Senate Minority Leader Chuck Schumer (D-N.Y.), Sen. Dianne Feinstein (D-Calif.), Sen. Cory Booker (D-N.J.), House Speaker Nancy Pelosi (D-Calif.), Sen. Elizabeth Warren (D-Mass.), Michigan Gov. Gretchen Whitmer (D), and former Georgia gubernatorial candidate Stacey Abrams.
Tara Reade participated in an interview with Megyn Kelly where she criticized Democrats for the way she has been treated in comparison to how Christine Blasey Ford was treated during Brett Kavanaugh's case, as IJR previously reported.