News
Biden Suggests the United States Is 'Actually Making Real Progress' Following Jobs Report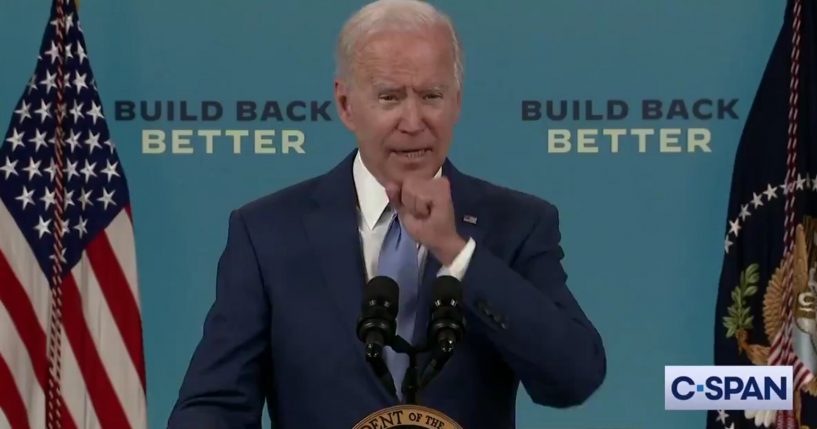 President Joe Biden says the September jobs report shows the United States is making "steady progress."
While delivering remarks on Friday, Biden explained, "Today's report is based on a survey that was taken during the week of September the 13th… when Covid cases were averaging more than 150,000 per day."
He argued, "Right now, things in Washington are, as you all know, awfully noisy. Turn on the news and every conversation is a confrontation. Every disagreement is a crisis. But when you take a step back and look at what's happening, we're actually making real progress. Maybe it doesn't seem fast enough."
Advertisement - story continues below
Biden continued, "I'd like to see it faster, and we're going to make it faster."
The president went on to suggest the United States is making "consistent, steady progress," adding, "We're making progress on funding the government and raising the debt limit."
Watch Biden's remarks below:
President Biden on dismal jobs report: "Turn on the news and every conversation is a confrontation, every disagreement is a crisis. But when you take a step back and look at what's happening, we're actually making real progress."pic.twitter.com/cSXOWbLpKM

— Breaking911 (@Breaking911) October 8, 2021
Advertisement - story continues below
Only 194,000 jobs were added in September, compared to the 500,000 that were expected. Labor Secretary Marty Walsh told Yahoo Finance Live the report is not "as bad as what everyone is reporting."
He added, "If you compare it to the Great Recession, it took us until 2016 to get under 5% [unemployment] in the Great Recession. In this particular case, the president and the administration, we've done it in about 19, 20 months."
Is the United States making "real progress"?
Walsh noted "other economies all over the world, they're in the same situation: people not participating, people not coming back to work."
He continued, "So we still have work to do here."
House Speaker Nancy Pelosi (D-Calif.) said in a statement the report is evidence "of the need for Democrats' jobs-creating Build Back Better agenda."
Advertisement - story continues below
She stressed the plan "will be transformative for America's workers and middle class. We must Build Back Better for jobs."
Several Republican lawmakers criticized the Biden administration following the report.
Truth and Accuracy
We are committed to truth and accuracy in all of our journalism. Read our editorial standards.
Comment Down Below
Conversation