News
Biden Touts Jobs Report: 'America Is Back to Work'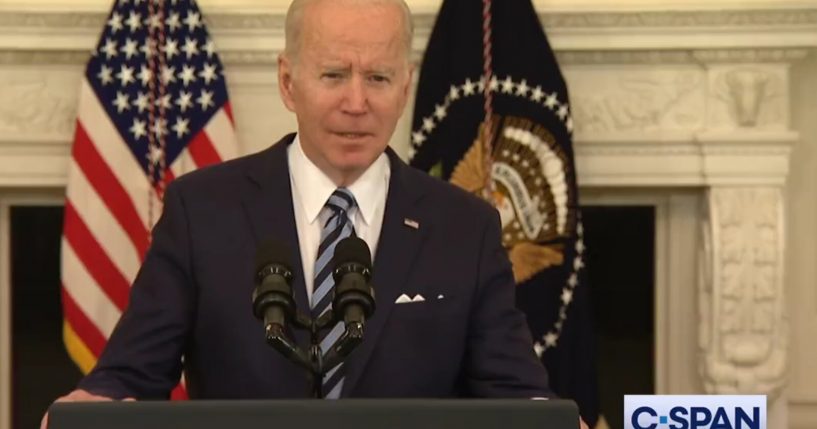 President Joe Biden reacted to January's jobs report, saying, "America is back to work."
While delivering remarks from the White House, Biden claimed, "America's job machine is going stronger than ever."
He continued, "America is back to work. Today we learned that in January, our economy created 467,000 jobs."
Advertisement - story continues below
Biden pointed out the job growth over November and December of 2021 "was revised up by more than 700,000 jobs."
He added, "This morning's report caps off my first year as president. And over that period, our economy created 6.6 million jobs… You can't remember another year when so many people went to work in this country. There's a reason it never happened."
Suggesting "history's been made," Bide explained, "But it comes alongside the largest job and unemployment rate in a single year on record. The largest reduction of childhood poverty ever recorded in a single year. And the strongest economic growth this country has seen in nearly 40 years."
Watch Biden's remarks below:
Advertisement - story continues below
President Biden: "America's job machine is going stronger than ever…America is back to work. Today we learned that in January our economy created 467,000 jobs." pic.twitter.com/7Vx3Dc7uPH

— CSPAN (@cspan) February 4, 2022
Additionally, Biden addressed increases in prices and inflation.
"I'm a capitalist, but capitalism without competition is not capitalism. It's exploitation," Biden said.
He continued, "So I'm going to continue everything in my power to work with the Congress to make our capitalist system work better. Provide more competition and lower prices for American consumers."
The president acknowledged that "average people are getting clobbered by the cost of everything. Gas prices at the pump are up. We're working to bring them down, but they're up."
Advertisement - story continues below
House Speaker Nancy Pelosi (D-Calif.) also touted the jobs report, praising Biden and her fellow Democrats for their "effective economic plan."
She explained, "Now, Democrats are prepared to build on this extraordinary economic momentum: continuing our work to lower families' costs, strengthen our supply chains, and make more goods in America."
Concluding her statement, Pelosi said, "Under the leadership of President Biden and House Democrats, our nation will continue to Build Back Better to create more good paying jobs and lower costs for families across America."
Truth and Accuracy
We are committed to truth and accuracy in all of our journalism. Read our editorial standards.
Comment Down Below
Conversation