News
Rep. Boebert Declares It Is Time To Impeach Biden, Harris Over Afghanistan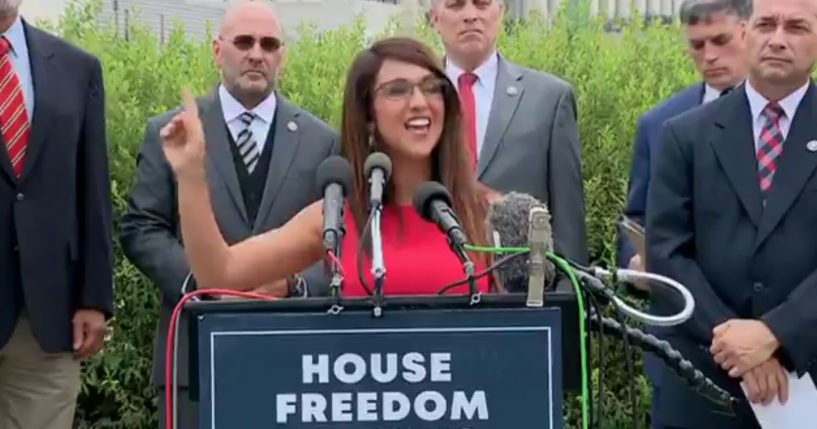 Rep. Lauren Boebert (R-Colo.) is calling for Congress to impeach President Joe Biden and Vice President Kamala Harris over the chaotic withdrawal from Afghanistan.
During a press conference on Tuesday, Boebert said, "The blame starts at the top with Biden and his hand-picked vice president, who bragged that she was right there making the same bad decisions."
"And if not for her own dereliction of duty, she should be impeached for not demanding we invoke the 25th Amendment," she argued.
Advertisement - story continues below
Finally, Boebert said, "It is time for action. Impeach Biden, impeach Kamala Harris. And throw in the Secretary of State if you can get him back from vacation. Take a vote to vacate the chair to get Nancy Pelosi the heck out of here."
Watch the video below:
The Colorado Congresswoman's comments come after the last U.S troops left Afghanistan, after roughly 20 years of war, as IJR reported.
Advertisement - story continues below
Biden has received heavy criticism over the execution of the withdrawal.
Boebert's comment about Harris bragging appears to be a reference to the vice president telling CNN's Dana Bash in April that she was the last person in the room before Biden made the decision to withdraw U.S. troops from Afghanistan.
Do you agree with Boebert?
Other Republican lawmakers have suggested Biden should resign or be impeached.
Rep. Jeff Duncan (R-S.C.) announced last week that he would co-sponsor articles of impeachment against Biden that were filed by Rep. Marjorie Taylor Greene (R-Ga.)
"Our Commander-in-Chief showed reckless disregard for both American citizens and allies in neglecting to secure their safe evacuation from Afghanistan once he withdrew our troops," Duncan said in a statement.
Advertisement - story continues below
He continued, "Impeachment is a very serious matter, and one I do not take lightly."
"It saddens me that it has come to this, but the president's actions have proved he is a threat to our national security and the constitution," Duncan added.
Sen. Lindsey Graham (R-S.C.) also said he believes Biden should be impeached, as IJR reported.
And Sen. Rick Scott (R-Fla.) asked whether it was time to "exercise the provisions of the 25th Amendment" and remove Biden from office.
Truth and Accuracy
We are committed to truth and accuracy in all of our journalism. Read our editorial standards.
Comment Down Below
Conversation