News
'Barr Imagined the Flames': Book Details Moment Trump Erupted Over Durham Russia Probe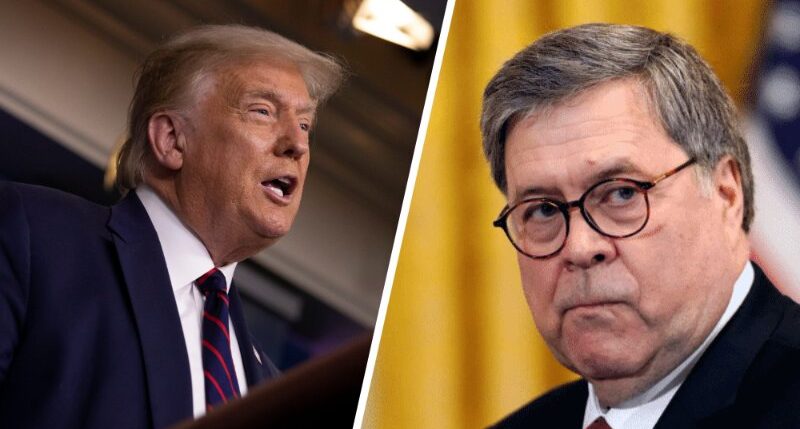 Former Attorney General William Barr reportedly witnessed former President Donald Trump blow up over the timing of special counsel John Durham's inquiry into the Russia investigation.
According to the book "Peril," written by Bob Woodward and Robert Costa, the eruption took place during a meeting after the former attorney general explained his reasoning behind telling the media the Justice Department determined there was no evidence of widespread fraud in the 2020 presidential election, as The Washington Examiner reports.
Trump then asked Barr when Durham's inquiry would be completed. He told Trump he did not know when Durham would be finished, adding, "I would imagine it would be in the first part of the Biden administration, hopefully maybe in the first six months."
Advertisement - story continues below
The former president yelled, "First part of the Biden administration!"
Woodward and Costa explained, "'Oh, s***,' Barr thought. Trump was steaming. Barr had never seen Trump in such a fury. If a human being can have flames come out of his ears, this was it. Barr imagined the flames. He had never seen Trump madder. But Trump was obviously trying to control himself. Tamping himself down and then flaming."
The book reported Barr told Trump "he needed to be patient about the Durham probe, especially as the pandemic slowed down operations across the department. Let Durham be."
The Examiner notes the Durham inquiry is still active.
Advertisement - story continues below
Trump continued to criticize Barr in response to ABC's Jon Karl's book "Betrayal," as IJR previously reported.
"Jonathan Karl's story on Slow Moving Bill Barr is made-up beyond any level imaginable. It is, in other words, Fake News!" Trump said in a June statement.
He continued, "It was when he dismissed and didn't act on the very powerful Horowitz Report, and instead gave everything over to John Durham, who has seemingly disappeared from the planet."
Additionally, Trump argued Barr was "afraid, weak, and frankly, now that I see what he is saying, pathetic."
Barr resigned in December of 2020.
Truth and Accuracy
We are committed to truth and accuracy in all of our journalism. Read our editorial standards.
Conversation