Buttigieg Claims Trump's In-Person Rallies Show 'How Little Respect He Has' for His Supporters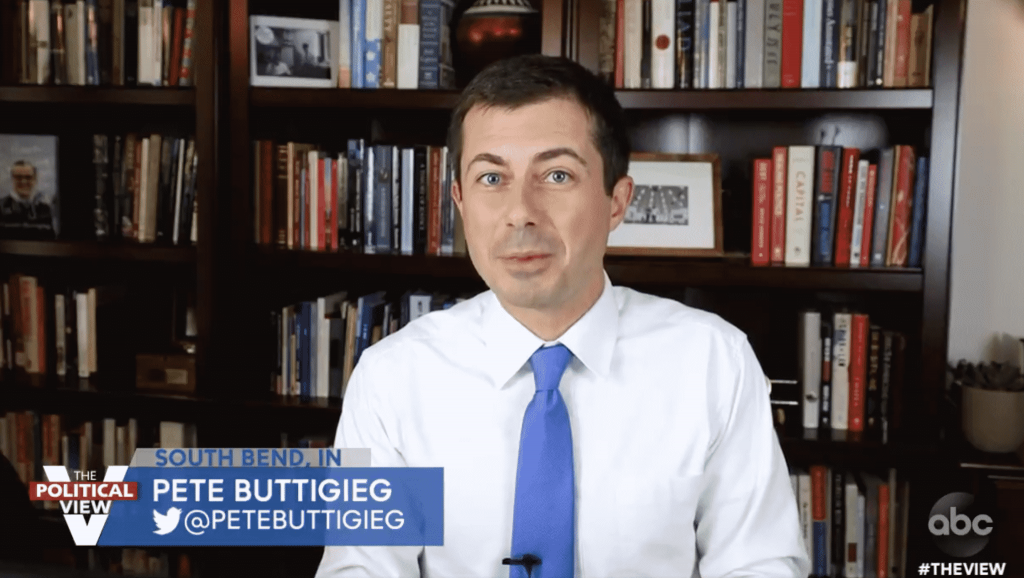 Former presidential hopeful Pete Buttigieg (D) is accusing President Donald Trump of failing to respect the health and safety of his supporters by holding in-person campaign rallies.
During his appearance on "The View," Buttigieg revealed why he believes Trump's decision to hold these rallies is not an effective strategy.
"If Donald Trump doing these things is a strategy, as of this moment, it's a failing strategy and a losing strategy," Buttigieg said.
He added, "The main thing that strikes me about the way he packs his supporters indoors sometimes and, you know, you heard someone asked him about whether he was concerned about transmission of disease. He said, 'Well, they're far enough away from me.' It's how little respect he has for his own people."
Watch his comments below:
.@PeteButtigieg calls Pres. Trump hosting in-person rallies in enclosed spaces a "failing strategy and a losing strategy," saying it's showing "how little respect he has for his own people." https://t.co/cVclFZQmjA pic.twitter.com/oVytIB0qFl

— The View (@TheView) September 15, 2020
He noted Democratic presidential nominee Joe Biden and his running mate Sen. Kamala Harris (D-Calif.) will continue to travel the nation, but will do so "in a different way out of respect for the safety of the supporters and the voters that they're talking to."
Buttigieg's comments come just days after the president held a rally in Nevada and, in doing so, defied the state's coronavirus mitigation guides, as IJR previously reported.
According to an Associated Press report, only those captured on camera behind Trump were required to wear masks as opposed to the vast majority.
Prior to his campaign rally, Trump conducted a brief interview with the "Las Vegas: Review Journal," where he revealed why he is not concerned about the coronavirus at his events, as IJR previously reported.
When asked if he was concerned about catching the coronavirus at one of his rallies, he replied, "No, I'm not concerned."
He was pressed on whether he was concerned about those attending the rallies.
Trump argued he is on stage and "it's very far away."
He added, "And so I'm not at all concerned."