Buttigieg Jokes About His 2020 Bid While Guest Hosting 'Jimmy Kimmel Live'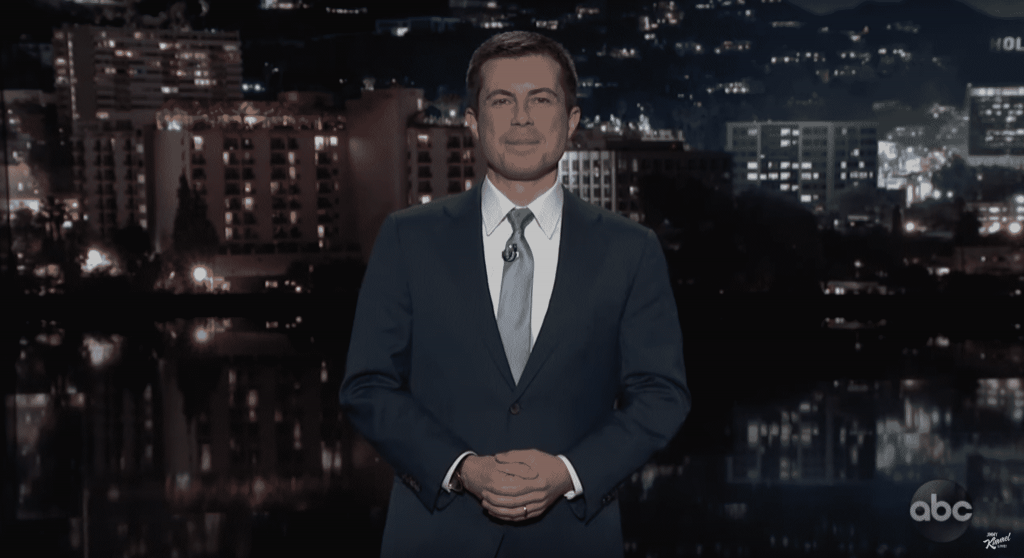 Former South Bend, Ind., Mayor Pete Buttigieg has no problem joking around about his previous 2020 presidential bid on late-night television.
Buttigieg appeared on "Jimmy Kimmel Live!" late Thursday to guest host where he covered a wide variety of topics including the coronavirus, his bid for the presidency, and being "unemployed."
The former presidential hopeful opened his monologue by acknowledging the lack of a live studio audience due to concerns over the coronavirus.
He joked, "When you don't have a real audience, you have to fake one, just like Trump's inauguration."
Watch his monologue below:
Buttigieg proceeded to call on Congress to pass the bill introduced by House Speaker Nancy Pelosi (D-Calif.) to combat the coronavirus.
The monologue soon pivoted to the presidential race.
"I really thought we had a shot but turns out I was about 40 years too young and 38 years too gay," he commented.
Buttigieg dropped his bid for president just before Super Tuesday leaving only former Vice President Joe Biden, Sen. Bernie Sanders (I-Vt.), and Rep. Tulsi Gabbard (D-Hawaii) in the race.
Biden pulled off major victories during Tuesday's primaries. He won four out of the six states, including Michigan's crucial primary, as IJR previously reported. He continues to gain momentum on his delegate count and the number of endorsements while Sanders falls behind.
The former mayor continued to introduce guests, including actors Tony Hale from the show "Veep" and Sir Patrick Stewart from the "Star Trek" series.
Buttigieg took a moment to joke about how after dropping out of the race and no longer serving as mayor, he is currently "unemployed." (00:07:45) He was shown walking around Hollywood Boulevard looking for a job at a pizzeria, clothing store, and pretzel place.
"Jimmy Kimmel Live!" tweeted, "Thanks for filling in Mayor Pete!"
Thanks for filling in Mayor Pete! @PeteButtigieg @SirPatStew @LeVarBurton @MrTonyHale @JheneAiko @Miguel pic.twitter.com/OfAvHYfqax

— Jimmy Kimmel Live (@JimmyKimmelLive) March 13, 2020
Buttigieg endorsed Biden for president shortly after dropping out of the race.