News
Tucker Carlson Suggests Joy Reid Should Be Charged for Alleging Her Blog Was Hacked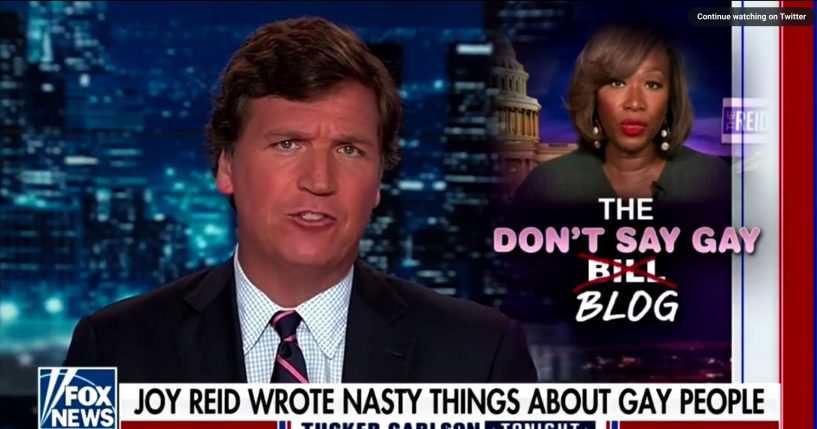 Fox News' Tucker Carlson argues that MSNBC's Joy Reid should face charges for involving the FBI in her claim that her defunct blog had been hacked.
During a segment of his show Thursday night, Carlson asked, "Whatever happened to Joy Reid's gay-bashing scandal?"
He went on to recall that several years ago, homophobic and transphobic posts were found on the MSNBC anchor's blog.
Advertisement - story continues below
"She was found a few years ago to have written this blog attacking gay people, putting them in danger, and then she said she never wrote it. Someone had hacked her blog, and she called law enforcement. Then we never really heard the end of that," Carlson said.
In a 2018 statement, Reid told Mediaite that her blog had been hacked and an "external party" had "manipulated material from my now-defunct blog."
Additionally, an attorney for Reid told The Washington Post that the FBI had launched an investigation into the matter.
However, in April 2018, Reid said she could not prove her blog was hacked and apologized for the controversial posts. Still, she maintained she "genuinely [did] not believe I wrote those hateful things."
Advertisement - story continues below
Chadwick Moore, the editor-in-chief of Outspoken, appeared on Carlson's show on Thursday night and noted, "An investigation happened. She had a hired gun and claimed that, yes, it was hacked.
"Then her employer, the far-left Daily Beast did their own investigation and said, no, it was not hacked," he continued.
Watch the video below:
.@Chadwick_Moore and Tucker Carlson speculate on what happened with Joy Reid's homophobic blog:

"It was either Joy Reid that wrote these blog posts—very homophobic blog posts—or Vladimir Putin." pic.twitter.com/4IsPylEM2q

— The Post Millennial (@TPostMillennial) April 1, 2022
Moore went on, "Then the FBI got involved, and we still haven't heard what came of that."
Advertisement - story continues below
"We do, however, have a name for when someone fakes a crime, gets law enforcement involved, and then wastes money, government resources, when they know it's faked. It's called pulling a 'Smollett,'" he added.
Carlson responded, "We've got a murder epidemic underway in the country. There's a war brewing in Eastern Europe."
"Now is not the time to tie up FBI resources with your fake hate crime claims. Why hasn't Joy Reid been charged for lying about this hacking of her blog?" he asked.
Moore went on to suggest that potentially Reid made some deal to avoid being charged, or she enjoyed "liberal media privilege."
Advertisement - story continues below
Finally, Moore said, "It appears that it was either Joy Reid that wrote these blog posts — very homophobic blog posts — or Vladimir Putin."
Carlson and Reid have used their platforms to criticize each other in the past.
The Fox News host has criticized Reid for her conversations about race, dubbing her the "race lady."
Meanwhile, Reid has claimed Carlson is "making America worse" and accused him of spreading conspiracy theories.
Truth and Accuracy
We are committed to truth and accuracy in all of our journalism. Read our editorial standards.
Comment Down Below
Conversation