News
'I Chewed Them Out': Marjorie Taylor Greene Talks About Tense Briefing on Chinese Balloon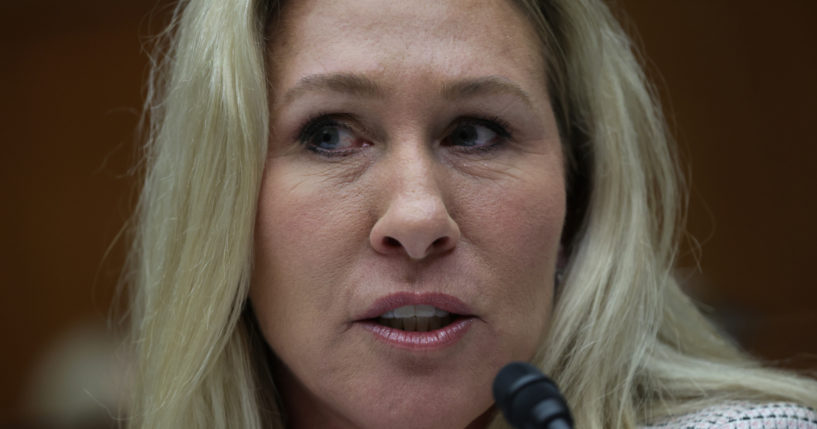 Rep. Marjorie Taylor Greene (R-Ga.) explained how she addressed officials during a briefing on the suspected Chinese spy balloon that entered U.S. airspace.
Greene told The Hill, "I had to wait in line the whole time. I was, I think, the second to last person, and I chewed them out just like the American people would've."
She added, "I tore 'em to pieces."
Advertisement - story continues below
One lawmaker who attended the briefing shared how the exchange between Greene and officials turned tense.
"When she got to ask questions, she was yelling out saying 'bullsh*t,' and, you know, 'I don't believe you,'" the lawmaker told the outlet.
The lawmaker claimed it was "just screaming and yelling, irrational in my estimation."
Greene expressed how Republicans were disappointed with the administration's decision to wait to shoot down the balloon.
Advertisement - story continues below
"I said the president may be a Democrat but he's still the president of the United States and they made him look like a fool and made him look weak the week before the State of the Union — I've said that publicly, too — by not shooting it down," Greene said.
She added, "And I said there was nothing I heard there today that gave me any confidence in what they did."
When asked about how others reacted to her remarks, Greene said, "They tried to give me some more excuses and I said, 'I don't want to hear more of your excuses.'"
The Republican explained, "He said, 'well it's a matter of opinion.' I said 'no, you're nothing but excuses and it's wrong and I'm just telling you, this is how the American people see it and it's a serious problem.'"
Rep. Gregory Meeks (D-NY) told The Hill there was "tension in the room" during the briefing.
Advertisement - story continues below
"There's some members who just don't want to believe what they said. They say 'Oh, I don't believe you,' you know, that kind of thing, 'I don't trust you.' So that's the kind of tension, just the fight back," Meeks said.
Another lawmaker claimed the meeting included "remarks out loud" over "the course" of the briefing from "more than one" Republican lawmaker.
Rep. Don Bacon (R-Neb.) said he did not learn a whole lot from the briefing.
"I didn't come away a whole lot wiser," Bacon said to the outlet.
Advertisement - story continues below
According to Greene, the briefing could be summed up in two parts.
"One doesn't sound so nice, but it sounded like bullsh*t. The other one is it was a bunch of excuses," she said.
Greene argued, "They allowed it to go across the country and there was nothing they told us in there that gave us a good reason to think they made the right move. As a matter of fact, they made the wrong move."
During the State of the Union address, Greene attempted to make a statement about the balloon with her outfit.
Advertisement - story continues below
Republicans

Marjorie Taylor Greene Makes Political Statement Through Viral State of the Union Outfit pic.twitter.com/raAUOvVv3u

— joe t (@jtinaglia) February 10, 2023
The outfit was worn "to highlight something President Biden refused to address in his speech, the white Chinese spy balloon," a spokesman for Greene said.
Spokesman Nick Dyer added, "Biden refused to mention it, just like he refused to stop the intelligence gathering operation that traversed the United States and surveilled some of our most important military facilities in the country."
Truth and Accuracy
We are committed to truth and accuracy in all of our journalism. Read our editorial standards.
Comment Down Below
Conversation