Chris Christie Accuses Republicans of Trying to Score 'Political Points' by Going Along With Election Lies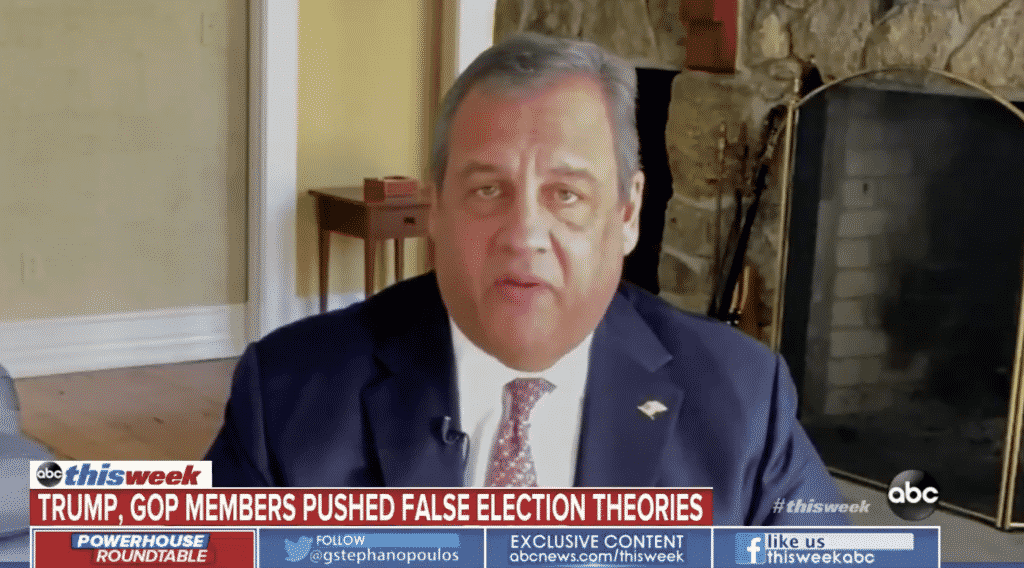 Former New Jersey Gov. Chris Christie (R) is blasting Republicans who went along with President Donald Trump's false election claims to win "political points."
Christie argued during his appearance on ABC's "This Week" the election "was not stolen" and "all of the facts point in that direction."
"While every election has some irregularities, and I'm sure this one did too, there were no type of irregularities that would've changed the result in any one state let alone the four states that would need to have been changed for the result of the election to have been changed," Christie said.
He continued, "Folks in my party who were doing that, quite frankly, are just trying to make political points with those people who the president and others lied to about this over the course of the ten weeks after the election and it's shameful that they're doing it."
Check out his comments below:
"This election was not stolen … there were no type of irregularities that would have changed the result in one state," Chris Christie says, adding that Republicans making the claim are trying to score "political points" with people Trump "lied to." https://t.co/w9SFw2wgzB pic.twitter.com/mrxpbIcoxY

— This Week (@ThisWeekABC) January 24, 2021
Some Republicans still refuse to admit the election was not stolen, including Sen. Rand Paul (R-Ky.), as IJR reported.
"Well, what I would say is that the debate over whether or not there was fraud should occur," Paul said during an appearance on ABC's "The Week" on Sunday.
Host George Stephanopoulos pressed him on whether he can "just say the words, 'This election was not stolen'?"
Paul replied, "What I would suggest is that if we want greater confidence in our elections, and 75% of Republicans agree with me, is that we do need to look at election integrity."
He went on to claim there is a "great deal of evidence of fraud and changing of the election laws illegally."
During the "Save America March" earlier this month, Trump reiterated his false claim the election was stolen, as IJR previously reported.
"You don't concede when there's theft involved," Trump said.