Clyburn: Pursuing Trump Impeachment Over GA Call 'Would Be a Waste of Our Time'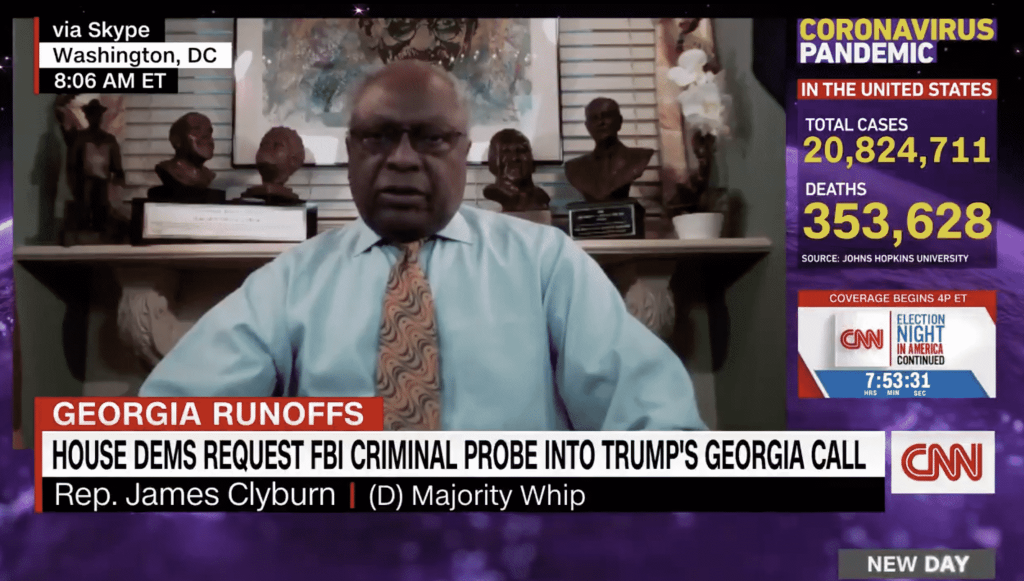 House Majority Whip Jim Clyburn (D-S.C.) has his focus set on preparing for the incoming administration rather than pursuing impeachment over President Donald Trump's phone conversation with Georgia Secretary of State Brad Raffensperger (R).
CNN's John Berman noted Trump asked Raffensperger to "flip" votes in an effort to overturn the results of the election. He also mentioned Democrats in the House who are calling for an impeachment investigation.
Berman asked Clyburn where he stands on the matter.
Clyburn responded, "It would be a waste of our time here in the House to pursue impeachment."
"I suspect if all that I've heard on this tape is to be investigated there could very well be criminal charges brought by state and local governments down there in Georgia… and I would hope that that would be pursued," the lawmaker added.
Watch his comments below:
Pursuing impeachment over Trump's Georgia call "would be a waste of our time here in the House," @WhipClyburn says.

He urged lawmakers to instead prepare for the new administration "to deliver for the American people so that we can get beyond this pandemic" pic.twitter.com/CNCHdzCdEn

— New Day (@NewDay) January 5, 2021
He called on his colleagues to set their sights on the incoming administration and how they can work toward leading Americans through the COVID-19 pandemic.
"I would hope that the House of Representatives would spend its time concentrating on getting ready for this new administration and getting our House in order, in order to deliver for the American people, so that we can get beyond this pandemic," Clyburn said.
He continued, "We have got to do something within the first 90 to 100 days to get people vaccinated, to get people comfortable with the vaccinations, and that's where I think our energy ought to be."
During his phone call with Raffensperger, Trump asked him to "find 11,780 votes" to overturn his defeat, as IJR previously reported.
Raffensperger later told ABC's "Good Morning America" that he "never believed it was appropriate to speak to the president, but he pushed out, I guess he had his staff push us. They wanted a call."
On Monday, two Democratic representatives asked FBI Director Christopher Wray to investigate the call.