Clyburn Calls Trump's Conversation With Georgia Election Officials 'Impeachable'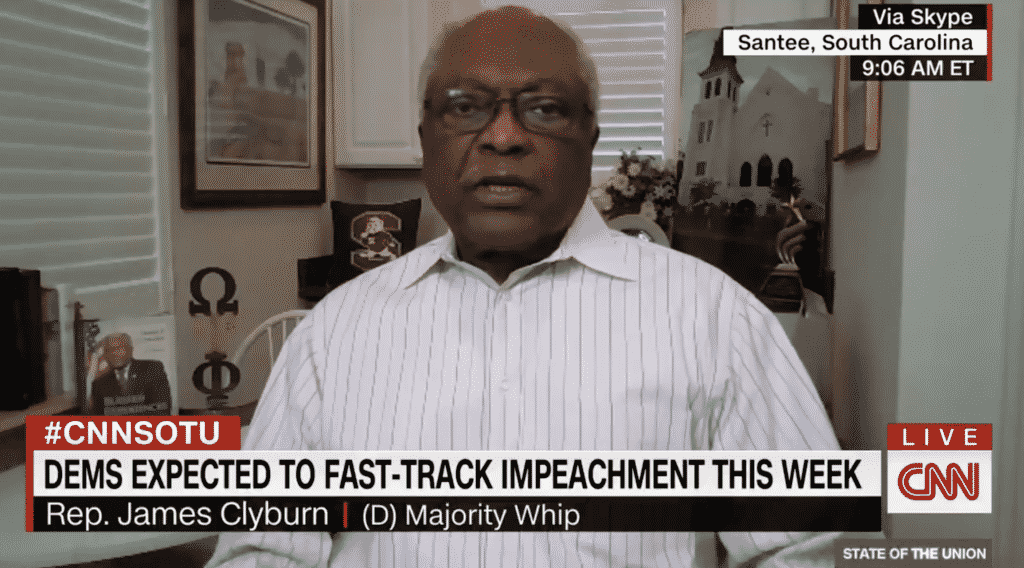 House Majority Whip Jim Clyburn (D-S.C.) is revisiting the possibility of impeaching President Donald Trump over his phone call with Georgia election officials.
CNN's Jake Tapper noted on Sunday one article of impeachment has been drafted for incitement of insurrection.
He mentioned Clyburn said there could be more than one article and asked him what those could be. Clyburn explained Trump's conversation with officials in Georgia could not be ignored.
"We heard it. On the phone talking to the secretary of state. In fact, almost ordering him, begging at one time, ordering at the other time, and threatening him with criminal action to overturn the vote, to find him 11,700 some odd votes," Clyburn said.
He added, "That is impeachable."
Watch his remarks below:
Rep. James Clyburn says President Trump's phone call with the Georgia secretary of state "is impeachable and it should be brought into question" #CNNSOTU https://t.co/z34PT4AuTB pic.twitter.com/NXABsyQbq1

— CNN Politics (@CNNPolitics) January 10, 2021
Clyburn argued the House has a "responsibility" to defend the integrity of the election.
"We tell people all the time that your vote is your voice. Well, our vote is our voice, and we must voice disapproval over what the president did," Clyburn continued.
According to audio published by The Washington Post last week, Trump called on Georgia Secretary of State Brad Raffensperger to help him "find votes" to overturn the election, as IJR previously reported.
Clyburn seemingly switched his position on impeaching Trump following the conversation after he said it "would be a waste" of time to pursue impeachment.
"I would hope that the House of Representatives would spend its time concentrating on getting ready for this new administration and getting our House in order, in order to deliver for the American people, so that we can get beyond this pandemic," Clyburn said during his appearance on CNN's "New Day."
Rep. Katherine Clark, the assistant House speaker, told CNN on Friday Democrats could vote on impeachment as early as "mid-next week," as IJR previously reported.