News
CNN Anchor Slams Biden for His 'Scolding Tone' During Message to the Unvaccinated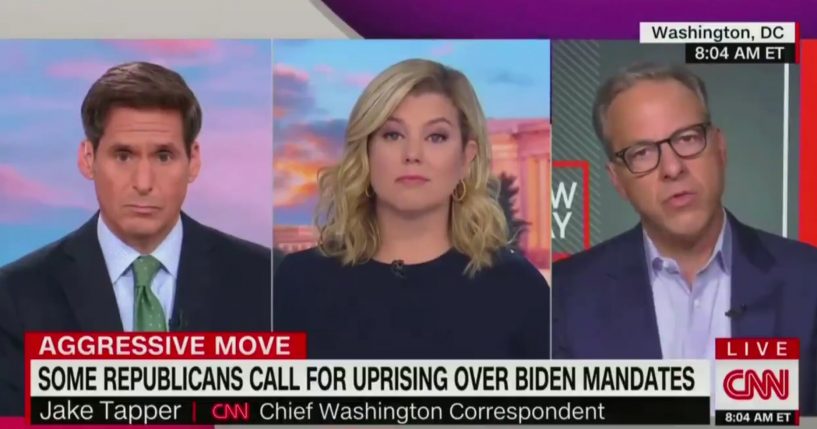 CNN's Jake Tapper took issue with the way President Joe Biden addressed Americans who have not been vaccinated against COVID-19.
Tapper joined his colleagues, John Berman and Brianna Keilar, Friday where he spoke out against Biden's "scolding tone."
He told them, "He took on a scolding tone talking to the people who are unvaccinated, talking about how people's patience is running out, talking about this mandate." 
Advertisement - story continues below
Tapper continued, "This is part of the American public, this is part of the ethos in this country. People don't want big government telling them what to do."
The CNN anchor argued he does not believe "scolding is the approach. There are these purveyors of misinformation out there, and they're not just on the right. Robert Kennedy Jr. is one of the most notorious ones. And I haven't seen the president or anyone say, look, people, like, he's scolding the people that are being lied to as opposed to the liars."
He added, "As with the election lie, you can get mad at the people who believe the lies, but the villains are the liars." 
Watch his comments below:
Advertisement - story continues below
WATCH: Tapper Rips Biden for Speaking Out Against the Unvaxxed: 'I Don't Think Scolding is the Approach' https://t.co/2yC1GYmgiC pic.twitter.com/O1a26ZwMOX

— Tommy moderna-vaX-Topher (@tommyxtopher) September 10, 2021
While delivering remarks at the White House Thursday, Biden expressed his frustration with the unvaccinated, as IJR reported.
Is a "scolding tone" the right approach?
"Many of us are frustrated with the nearly 80 million Americans who are still not vaccinated, even though the vaccine is safe, effective, and free," Biden said.
He continued, "What more do you need to see? We've made vaccinations free, safe, and convenient. The vaccine is FDA approved. Over 200 million Americans have gotten at least one shot. We've been patient, but our patience is wearing thin, and your refusal has cost all of us."
The president made the remarks while announcing his plan directing the Labor Department to require all businesses with 100 or more employees to make sure they are vaccinated or tested once a week.
Advertisement - story continues below
He is also requiring all federal employees to get the vaccine and be tested weekly for the virus.
Truth and Accuracy
We are committed to truth and accuracy in all of our journalism. Read our editorial standards.
Conversation