News
Cori Bush on Abortion: 'We Don't See Sperm Regulation Legislation'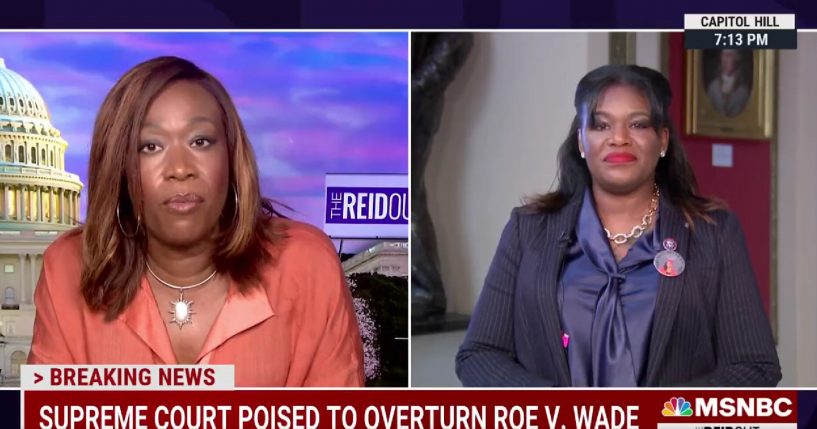 Rep. Cori Bush (D-Mo.) says the fight against abortion rights is "just about control."
During an interview with Joy Reid, Bush commented on the potential overturning of Roe v. Wade by the Supreme Court.
"The decision is not written yet and so we're still fighting now for folks like me who do live in states that have trigger bans. We understand what's going to happen and how immediate it is," Bush said.
Advertisement - story continues below
She continued, "We're thinking about that 13-year-old that would like to have an abortion because however they became pregnant they know that this is not what they need right now."
Bush argued, "If they don't want to talk about us regulating their sperm, then don't talk about what's happening to our bodies and we shouldn't be talking about, we shouldn't be trying to regulate their sperm just the same way they shouldn't be trying to regulate our uteruses."
Watch her comments below:
.@RepCori: "We are still working right now. The decision is not written yet." #TheReidOut #RoeVsWade pic.twitter.com/7GT5ilor1W

— The ReidOut (@thereidout) May 11, 2022
Advertisement - story continues below
Additionally, Bush suggested "opposition to abortion care has never been about a baby."
She added, "It's never been about children because if it was, we'd have better resources for when the child is actually born, but so it was never about that. It's just about control."
Is it "just about control"?
The "Squad" member explained that "there's a reason why we don't see sperm regulation legislation."
She went on, "There's a reason why we don't see mandated vasectomies. You know, the very idea that we would take away men's bodily autonomy is outrageous, like it's unfathomable, but truthfully sperm are busy. It's busy. Who's regulating that? Who is saying something about it? I didn't see the senator saying something about it and somewhere that legislation?"
According to Bush, there will "never be [legislation] especially if it's up to them, because they don't see that as something that's needed because it's about control and it's not about children."
Advertisement - story continues below
On Wednesday, the Women's Health Protection Act failed to pass.
The bill would have codified the right to an abortion.
President Joe Biden issued a statement responding to the vote.
"This failure to act comes at a time when women's constitutional rights are under unprecedented attack – and it runs counter to the will of the majority of American people," Biden said.
Advertisement - story continues below
He added, "We will continue to defend women's constitutional rights to make private reproductive choices as recognized in Roe v. Wade nearly half a century ago, and my Administration will continue to explore the measures and tools at our disposal to do just that."
Truth and Accuracy
We are committed to truth and accuracy in all of our journalism. Read our editorial standards.
Comment Down Below
Conversation