News
CPAC Reveals Results of 2024 GOP Presidential Nomination Straw Poll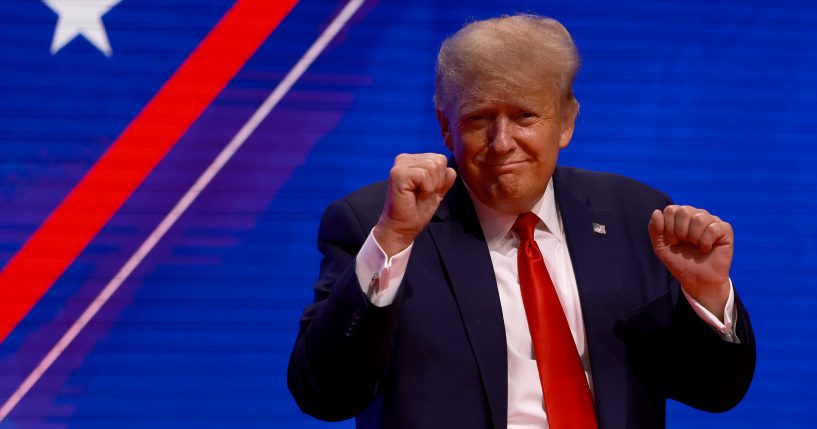 The Conservative Political Action Conference (CPAC) announced the results of the 2024 Republican GOP presidential nomination straw poll.
According to the poll, 59% of respondents said they would vote for former President Donald Trump if the 2024 Republican primary for president in their state were held today.
Florida Gov. Ron DeSantis (R) captured 28% of the votes. In another poll without Trump in the running, DeSantis garnered 61% of the votes.
Advertisement - story continues below
Six percent said they would vote for former Secretary of State Mike Pompeo, followed by 6% who said the same about Donald Trump Jr.
BREAKING: #CPAC straw poll:

Donald Trump: 59% (55% last year) Ron DeSantis – 28%

Without Trump: DeSantis at 61% followed by Pompeo and Trump Jr. at 6%.

— Greg Price (@greg_price11) February 27, 2022
Sen. Ted Cruz (R-Texas) and Sen. Rand Paul (R-Ky.) both garnered 3% of support. Additionally, 3% said they would vote for South Dakota Gov. Kristi Noem (R) while 2% would back former Ambassador to the United Nations Nikki Haley.
The survey was conducted from February 24 to February 27 and surveyed 2,574 CPAC attendees.
Advertisement - story continues below
Earlier this month, DeSantis responded to reports that his relationship with Trump is strained, as IJR reported.
"He is proud when people do well, and it's not just me, but obviously he's a Florida resident, and he appreciates the job that we've done. He's told me that many times, not only with helping with the election, but just how we govern the state," DeSantis said.
Would you vote for Trump if the 2024 Republican primary for president were held today?
The governor continued, "He wants to see Republicans doing well. And I think when media is trying to act like he's upset at me for doing well, I think that's total bunk. I think they're just making it up. And I think he's somebody that wants to see, you know, not just Republicans do well, but people that are actually going to stand and fight to do well across the board."
The former president hinted that he would run again in 2024.
"We did it twice, and we'll do it again," Trump said during his speech at the conference, adding, "We're going to be doing it again a third time."
Truth and Accuracy
We are committed to truth and accuracy in all of our journalism. Read our editorial standards.
Comment Down Below
Conversation