News
Crenshaw Says Bush Is 'Right' About Biden's Decision To Withdraw US Troops From Afghanistan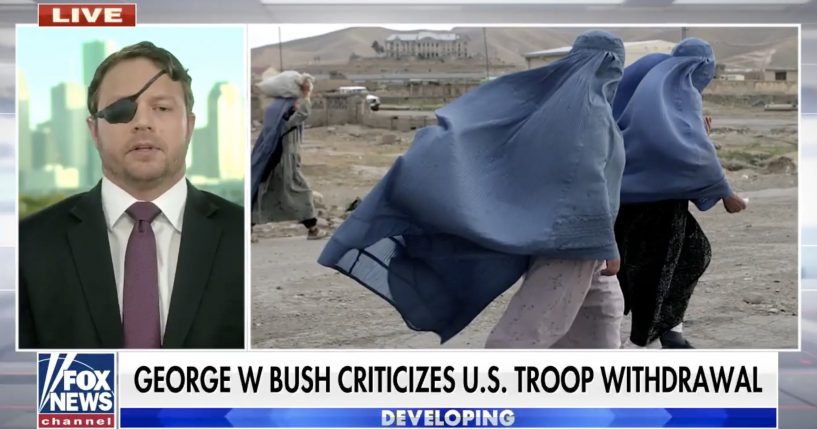 Rep. Dan Crenshaw (R-Texas) agrees with former President George W. Bush regarding his assessment of President Joe Biden's decision to withdraw all American troops from Afghanistan.
During a Fox News interview on Thursday, Crenshaw was asked for his thoughts on the former president's comments.
"I'm afraid Afghan women and girls are going to suffer unspeakable harm," Bush said during a DW News interview.
Advertisement - story continues below
When asked if it is a mistake, Bush replied, "I think it is."
He continued, "I think of all the interpreters and people who helped not only U.S. troops, but NATO troops. It seems like they're just going to be left behind to be slaughtered by these very brutal people."
Crenshaw shared his thoughts, "Of course he is right. That's exactly what will happen. You are already seeing signs of the Taliban gaining strength because our military operations have decreased widely over the last few months, knowing the withdrawal has been decided upon."
He added, "You are already seeing the Taliban gain strength. You look at a return to the late 90s, which by the way set up the stage for 9/11 to happen."
Advertisement - story continues below
Check out the video below:
Crenshaw did acknowledge "the American people want us out."
Advertisement - story continues below
He explained, "The American people have been persuaded [by] what I think are disingenuous and emotional arguments that basically amount to slogans of 'Bring the boys home' and 'No more endless wars.'"
While delivering remarks last week, Biden defended his decision, as IJR reported.
"The United States did what we went to do in Afghanistan, to get the terrorists who attacked us on 9/11 and deliver justice to Osama Bin Laden and to degrade the terrorist threat to keep Afghanistan from becoming a base in which attacks could be continued against the United States," Biden said.
He added, "We achieved those objectives. That's why we went. We did not go to Afghanistan to nation-build, and it is the right and the responsibility of Afghan people alone to decide their future and how they want to run their country."
Truth and Accuracy
We are committed to truth and accuracy in all of our journalism. Read our editorial standards.
Comment Down Below
Conversation