News
Crenshaw Releases Children's Book Warning About the Dangers of 'Cancel Culture'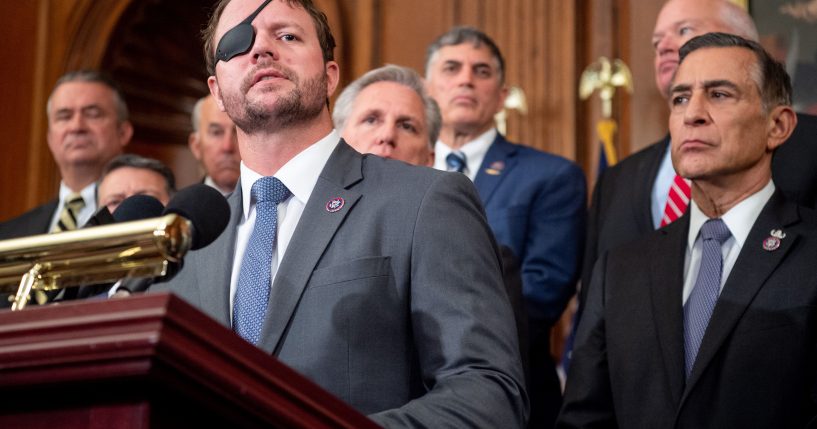 Rep. Dan Crenshaw (R-Texas) released a children's book explaining the dangers of "cancel culture" and the effects it has on society.
According to the description for the book, "Fame, Blame, and the Raft of Shame," Crenshaw argues, "While today's culture presents canceling others' opinions as the solution to their problems, they don't realize that a culture of canceling eventually cancels culture entirely."
The fictional story follows an underwater city "beneath a dome made of glowing seaweed." The city's "beauty and strength are mirrored by its vibrant culture, and Eva wants nothing more than to take her place on Starlotte City's stage. But when one star performer suggests that they ought to cancel some animals for insensitive comments, the true strength of the seaweed city and its citizens is put to the test."
Advertisement - story continues below
The description continues, "Will Eva have the courage to stand up to the crowds, or will she allow fear to silence herself and others?"
During an interview with Fox News, Crenshaw explained his goal is to "reach all audiences."
He added, "Parents are increasingly frustrated by their school's curriculum. They can go find left-wing progressive and woke children's books out there. It's pretty hard to find exclusively conservative-themed children's products."
Crenshaw teamed up with Brave Books for the project. The company said in its mission statement it "is empowering this generation's youth with conservative values so that the next generation will be filled with strong and discerning leaders."
Advertisement - story continues below
He told Fox News, "I think the way they do it is pretty cool, using a variety of different conservative authors who write about different themes within the same sort of universe."
The congressman explained how he believes "conservatives wrongly view cancel culture as a very simple question of either being able to say whatever the hell you want or being silenced."
He continued, "It is not that simple. And I wanted to craft this story that kind of exposes the nuance of what we mean by cancel culture."
When it comes to the role faith plays in "cancel culture," Crenshaw told the outlet, "Faith is about grace, right? Showing grace even in the face of your enemies. That's also the very clear message of forgiveness."
Crenshaw added, "And Christianity, of course, is linked with a sense of grace. So it's easy to use the Bible, and I think necessary to use the Bible, as a way to guide sort of our moral actions and how we forge relationships with one another."
Truth and Accuracy
We are committed to truth and accuracy in all of our journalism. Read our editorial standards.
Conversation